5 Wellness Rituals J. Lo Follows To Get Her Iconic Glow
Jason Merritt/TERM/Getty Images Entertainment/Getty Images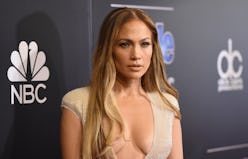 Even after stocking up on all of J. Lo's favorite skincare brands and trying out every cosmetic that's turned up in the background of her Instagrams, you still might find it impossible to get her iconic glow. The truth is, the 49-year-old's beauty routine goes far beyond the products sitting on her vanity. It's Jennifer Lopez's wellness secrets that keep her looking glowy and young.
When the topic of J. Lo comes up, it's almost impossible not mention the singer-turned-actor's glowing complexion. People have been prodding Lopez for her secrets for literal decades now, and she's only just now developing her own product line.
And while J. Lo's skincare brand is sure to be an immediate cult classic, it probably won't be able to perform miracles (no matter how difficult that is for you to hear). You know what they say: Beauty is within, and nobody takes that statement as seriously as the Second Act actor.
Lopez has been loyal to her wellness routine for years. From passing up cocktails to meet her daily recommended water intake to always getting plenty of sleep despite how busy she is, these are the rituals the multitasker credits for keeping her skin (and well-being) in tiptop shape.
Avoiding Alcohol And Caffeine
If you asked the mom of two what her No. 1 skincare secret is, you might be surprised to find that it isn't an expensive eye cream or wearing sunscreen (although she does love a good SPF). Rather, she credits cutting out alcohol, caffeine, and "late nights" for keeping her complexion fresh. The singer refuses to smoke cigarettes or even drink coffee because, as she once told Us Weekly, these habits "really wreck your skin as you get older."
Staying Hydrated
Any aesthetician will tell you that hydration is the key to a good complexion. Rather than drinking a morning cup of coffee or a wind-down glass of wine, J. Lo guzzles water all day, every day, according to E! News. She says she doesn't even know exactly how much water she drinks in a day, but she's almost certainly surpassing the recommended eight glasses because she is hydrating constantly.
Prioritizing Sleep
Unlike other celebrities who claim to run at maximum power on four or five hours of sleep, J. Lo makes sure she gets full REM cycles in at night. Even with a schedule as packed as hers, the actor still makes time for eight hours — at the bare minimum — of sleep. In fact, she has told Us Weekly that nine or 10 is actually ideal.
Fueling Up On Superfoods
Some are blessed with glowing skin no matter how many french fries and sweets they eat, but that's not necessarily the norm. To maintain Lopez's complexion, she loads up on vegetables and fruits, of course, steering clear of anything processed. When asked about her diet, she says she is partial to fish, asparagus, Brussels sprouts, broccoli, and kale. She reportedly relies on protein, not carbs, to keep her full.
Making Time For The Gym
Anyone who's read anything about the actor's wellness routine knows that she rarely skips a workout. But what some may not realize is that fitness does wonders for skin. Exercise is scientifically proven to reverse skin aging, and Lopez logs plenty of hours in the gym doing workouts she actually finds fun, like dancing and kickboxing.