J. Lo Is Dropping A Skincare Line In 2019 — Here's Everything You Need To Know
Matt Winkelmeyer/Getty Images Entertainment/Getty Images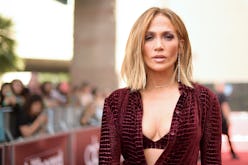 There are a handful of women who've been in the spotlight for decades but still look as young as when they started, and Jennifer Lopez is one of them. People have been prodding the former pop star to reveal her secrets to a youthful complexion for years. Finally, Jennifer Lopez is launching a skincare line of her own.
The 49-year-old actor has been busy promoting her new film Second Act in New York City, making stops at The Tonight Show, The Daily Show, and Good Morning America, among others (and wearing the most over-the-top monochrome outfits along the way). While speaking at a co-working space called The Wing on Weds., Lopez was asked by moderator Yari Blanco about her skincare regimen.
That's when J. Lo announced that she's launching a product line in 2019, Refinery29 reported. It's unclear what exactly will be included in the collection, but the Maid in Manhattan star has given you her word that whatever it is will be effective, rest assured.
"It's going to be something that works," she told the audience. "That's what you can count on when my name is on something."
Lopez said she's actually been working on it for a while now because she doesn't want to "put [just] anything out." If it has the stamp of approval from this fresh-faced mom of twins, it's sure to be good.
The skincare line will combine all the miracle ingredients and well-kept secrets Lopez has acquired over the years. She also assured folks in the audience that her youthful skin "doesn't have anything to do with needles." So, it looks like good, old-fashioned products and genetics are the key to anti-aging, after all.
This won't be the first time the accomplished multitasker has been around the block in the beauty industry. Who could forget about Glow by JLo, the fragrance she launched more than 15 years ago? The singer-turned-actor has churned out upward of 30 perfumes since then.
She's tried her hand at designing clothes for Kohl's and, earlier in 2018, she even designed her own makeup line, too. Lopez teamed up with INGLOT Cosmetics for a collection that included lip colors, false lashes, nail polish, and everything in-between. So, while you wait on that highly-anticipated skincare line to help you turn back the clock, take a gander at these J. Lo-approved cosmetics. Surely your New Year's Eve look could use a shimmery eyeshadow anyway.
Shop Jennifer Lopez INGLOT Makeup