Jennifer Lopez Traded In Her Glittery Nails For This Classic Shade At The Critics' Choice Awards
Frazer Harrison/Getty Images Entertainment/Getty Images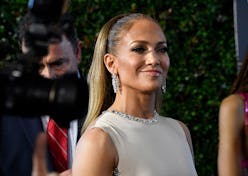 J. Lo's giant bow at the Golden Globes was campy and playful, but this past Sun., she opted for sleek sophistication instead. Her champagne-colored gown oozed elegance with its slim fit, backless design, and crystal-lined trim. Whereas the Golden Globes called for a shimmery French manicure, Jennifer Lopez's nails at the Critics' Choice Awards were much more subdued.
So far, the actor's awards season manicure M.O. has been glitter and a whole lot of it. At the Golden Globes, it was a sort of sparkly overlay on that very unique take on French tips (ombré, remember?). Then, at Sat.'s Los Angeles Film Critics Association Awards, they were almost as twinkly as her 10- to 15-carat engagement ring, and that's saying something.
Lopez's nails at Sun.'s Critics' Choice Awards were a major departure. To match her chic Georges Hobeika dress, manicurist Tom Bachik fit her with a neutral shade that wasn't reminiscent of a disco ball, for once. Totally work-appropriate, in other words.
While nude shades have always been a favorite — Essie's Ballet Slippers is a cult classic that's earned even Queen Elizabeth's affection, as you may know — they seem like more of an afterthought to today's intricate nail art.
2020 nail trends are favoring prints, geometric lines, crystal accents, and glitter, all of which J. Lo, herself, has sported. Her most recent approval of a nude shade, however, proves that neutral polish really is timeless (so dig out the Ballet Slippers without regard).
Somehow, Bachik managed to match the champagne shade of Lopez's dress perfectly. The toned-down colors gave way to her many sparkly accessories, including those vintage Harry Winston chandelier earrings (circa-1972) and matching bangle, her Jimmy Choo clutch, and the jewels lining the gown, itself.
Lucky for those of us who don't have access to vaults of vintage Harry Winston diamonds, this classic hue doesn't discriminate against a commoner's budget. In fact, you can probably find a similar color at your nearest drugstore. The Zoe Report's top picks, ahead.