12 New Skincare Products That Will Restore Your Complexion
Mireya Acierto/Getty Images Entertainment/Getty Images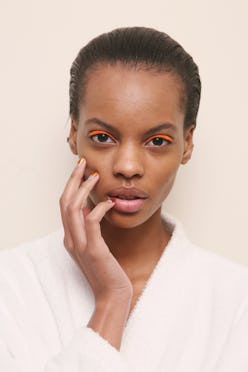 Quick: Think about fashion week and the images that those two words evoke. Does a sprawling runway come to mind? What about celeb sightings, and the wild, raging Page Six-worthy afterparties? You might think about the models, too — but not in the way that everyone should consider them. They look like they're having the time of their life, but their skin is going through it... especially since they're constantly taking makeup on and off throughout the day, at different shows. All of that isn't for the faint of heart... or those with sensitive skin. Luckily, there are a number of new skincare products to combat the dryness and those pesky breakouts that stem from heavy foundation, dramatic eyeshadow, and layers of highlighter every night.
"It's critical that makeup be applied to skin that is clean and well-hydrated. A good cleansing with gentle cleanser and warm water is a must," Shari Hicks-Graham, MD, of Downtown Dermatology in Columbus, O.H., tells TZR over email. "Afterwards, I recommend using a moisturizer or a nice hydrating facial mist to rehydrate. Wipes are not sufficient to remove makeup and cleanse the skin completely."
Dr. Hicks-Graham, who's also the founder of LivSo hair care, recommends looking for products with benzoyl peroxide, salicylic acid, glycolic acid, and azeleic acid to keep zits at bay.
And as far as moisturizers, it all depends on your specific needs: Vitamin C is always good for glow, and hyaluronic acid moisturizes even the driest of faces.
Overall, the most important way to prevent backstage breakouts is to make sure that the cosmetics used are of good quality and in good condition.
"Today's makeup is generally all oil-free and non-comedogenic, so typically it doesn't cause acne if removed appropriately," she notes. "However, some sensitive areas can become drier with product sitting on top. And brushes should also be free of old makeup — and shouldn't be shared between different people without proper sanitation to prevent spread of bacteria and viruses. If models aren't sure about how this may or may not be possible, be prepared and bring your own set of brushes and applicators to the shows."
Here are some of fall 2018's most exciting launches that would be great to use if you're a fashion week model ... or if you just want to look like one.