J.Lo Just Took An Extremely Rare & Expensive Birkin Bag To The Gym
Dia Dipasupil/Getty Images Entertainment/Getty Images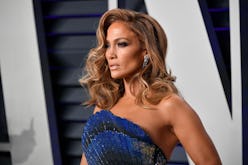 Most of us show up to spin class in mismatched leggings and an old, baggy t-shirt, carrying whatever tote we had lying around the house over our shoulders. J.Lo, on the other hand, packs her workout essentials into a literal collector's item. The Birkin Bag Jennifer Lopez just carried to a UFC gym has been called "the rarest thing in the world."
Just when you thought her past fashion statements couldn't be topped, the singer steps out for a sweat session carrying what Christie's calls the "Holy Grail" of handbags. Lopez's Himalaya Birkin is made from crocodile hide from The Nile. Yes, really.
Although its origin is Africa, its white design which fades into gray at the sides is meant to resemble the majestic, snowy peaks of the Himalayas, hence the name. The bag is dubbed "rare and exceptional" for the amount of skill and precision it takes to dye a crocodile hide white.
"Handbag collectors around the world recognized the rarity and exquisite craftsmanship behind the Himalaya," according to Christie's. "Consequently, in a resounding response to the appetite of collectors, Hermès began to craft a limited number of Himalaya Kelly bags for top clients."
One of those top clients is, of course, CFDA Fashion Icon, award-winning musician, and the fiercest dresser around, Jennifer Lopez. Now, she carries the coveted collector's item everywhere, including to the gym.
Rather than one of those nylon duffel bags that boxers typically carry their gloves in, J.Lo turned up to the UFC gym in Miami on Mon. with a verifiable work of art slung over her arm. She sported an all-white yoga set with gold speckles by Beyond Yoga and a pair of Adidas running shoes.
It's likely the most expensive bag to ever see the inside of a boxing gym. During a 2016 Christie's auction, one similar to hers set the world record after it sold for more than $300,000.
The singer has been carrying it nonstop since Feb. She pairs it with her signature Timberlands, her casual sweatpants, on the plane, to the gym, and everywhere in-between. Needless to say, she's getting her wear out of the desirable piece despite its value and rarity.
Her latest stunt in Miami, though, topped them all. Only J.Lo could carry something that cost more than a Ferrari into the gym.