Jennifer Lopez Is Set To Receive A Major Fashion Industry Award
Dia Dipasupil/Getty Images Entertainment/Getty Images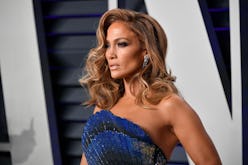 Two decades after her first single dropped, people still haven't stopped talking about everything J. Lo wears. It takes a true trendsetter to maintain relevancy so well. Now, as the recipient of the CFDA's 2019 Fashion Icon award, Jennifer Lopez is getting the recognition she deserves.
That plunging tropical-green Versace dress Jenny From The Block wore to the 2000 Grammys will go down in history. The gown was Googled so many times that the search engine was compelled to launch Google Images.
Yes, J. Lo was responsible for the creation of Google Images (not to mention the rise of many a fashion trend). Needless to say, she's never been afraid to make a statement. Sure, her style is a little bit wacky and over the top at times, but Lopez's bold outfits continue to make an impact on both the industry and her devoted fans. That, after all, is what makes a fashion icon.
Every year, the CFDA (Council of Fashion Designers of America) selects one inspirational, legendary, trend-provoking celeb to grant its highest honor and this time it's Lopez's turn with the title.
The singer will receive the coveted Fashion Icon award during the June 3 ceremony at the Brooklyn Museum.
"Jennifer Lopez uses clothes as a way to express confidence and power," CFDA Chairwoman Diane von Furstenberg said in a press release on Tues. "Both designers and fans look forward to her fashion statements."
The organization rounded up some of J. Lo's most iconic style moments to support their choice. Included, the sheer dress she wore to the CFDA Awards back in 1998 and that whimsical red Donna Karan gown she debuted at the 2014 Billboard Music Awards were cited, but an impressive number of outfits on the list were from just the past year.
The hot-pink tulle gown from the premiere of Second Act, the cross-adorned Balmain number she sported to the Met Gala, and who could forget the Tom Ford mirror dress from the 2019 Oscars? Whether you realized it or not, Lopez has been making history in front of your very own eyes.
The singer, producer, mom of twins, bride-to-be (the list continues) seems to just keep getting better with age. At 49 years old, she's still churning out hit singles, ingenious music videos, awards show performances, movies, TV shows, a skincare line, you name it.
Nobody fits in better with Beyoncé, Sarah Jessica Parker, Rihanna, Lady Gaga and all the other past CFDA Fashion Icons than this legendary rule breaker. Long may she reign.