Jennifer Lawrence Wore The Dreamiest Dress To Her Engagement Party (& It's In Stock)
Kevork Djansezian/Getty Images Entertainment/Getty Images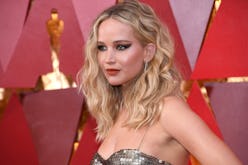 News of J. Law's engagement to art gallerist Cooke Maroney came during a whirlwind of awards season chaos and just before Hollywood's baby boom. Just in case anyone has forgotten, though, the bride-to-be is now walking around New York in an actual wedding gown as a reminder that her moment is coming soon. Jennifer Lawrence's engagement party dress is about to make your Disney princess dreams come true.
Your invitation to the actor's big day must have gotten lost in the mail, but hey, the best kind of weddings are the ones you don't need to buy new outfits for, anyway. Thankfully, no RSVP is necessary to admire J. Law's bridal looks from afar.
The couple hasn't exactly confirmed when their wedding day will be, but it must be getting close because Mon. marked the Red Sparrow actor's engagement party. Lawrence's pink gown floated behind her as she walked through a garden of fairy lights in the Instagram photo her glam squad posted.
Her fiancé was also there to escort her to the party, which reportedly took place in Dumbo, Brooklyn. The actor opted for a pale-pink, long-sleeved gown by bridal brand L. Wells. The Juliana, as it's called, is part of the label's Summer 2019 collection and comes in both pink and white.
Lawrence's whimsical gown is almost reminiscent — at least in color — of the minidress she first debuted her engagement ring in. She and Cooke, who she'd been publicly dating for about six months, didn't bother hiding the diamond on Lawrence's finger during a casual outing one day, and fans obviously spotted it immediately. The Oscar winner's rep later confirmed with E! News that the lovebirds were, indeed, engaged.
The future newlyweds haven't leaked any details about their upcoming wedding day. Everything surrounding the big event has been very secretive, but a source just recently told People that it will probably be an "extensive family affair." The couple has reportedly had their eye on luxury hotels in New York City.
But while you wait for those wedding bells to ring, work this princess-inspired dress into your spring wardrobe with similar numbers, ahead.
Shop The Look