Jennifer Aniston Swears By The Buzzy Wellness Juice Everyone Is Drinking Right Now
MOVI Inc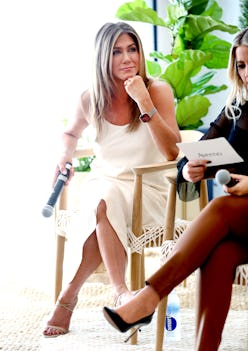 In addition to her legendary acting chops and iconic style, Jennifer Aniston has also become known as quite the health and wellness warrior. At 50 years old, the actor is in better shape than ever thanks to her devotion to healthy eating habits, regular fitness routine, and dedicated wellness practices that include a multitude of magical elixirs that do a body good (clearly).
Aniston recently sat down with The Zoe Report at an event for mega beauty brand Aveeno, where the actor served on a panel discussing the relationship between the microbiome and healthy skin. While on the topic of health, the actor also generously spilled the details of her extensive wellness routine. To start, the Friends star explained she starts every morning with a shot of apple cider vinegar, a practice she's adopted for several years. "It just wakes you up, reduces bloating, and makes everything feel like it's moving," she explains. (Aniston's not wrong. I tried the trendy yet unappetizing ACV trick for myself for a week and found my skin, energy levels, and tummy issues had improved substantially.)
Another buzzy wellness trend she subscribes to (that's virtually on the tip of everyone's tongue right now) is celery juice. Yes, the veggie craze that's touted for its hydrating, skin-clearing, and gut-health-improving properties is at the top of the actor's morning to-do list. "I've definitely gotten on that bandwagon for the past year and a half," she says. "I love it."
Further contributing to her superfood devotion is E3Live, the liquid supplement comprised of "a wild-harvested, organic aphanizomenon flos-aquae (AFA) blue-green algae," which "provides more than 65 vitamins, minerals, amino acids, and essential fatty acids," according to the brand's website. "It's kind of a tough one to throw back, but I do that because it's a brain food," says Aniston. And just when you thought every wellness base was covered, the Dumplin' star adds regular probiotics, resveratrol, and collagen peptide-infused coffee to the mix, as well. "There are all sorts of potions," she says with a laugh.
Well, as extensive as this routine may seem, said potions have worked their magic tenfold. Aniston's glowing skin, perfect hair, and strong physique have been a topic of conversation for some 25 years. And, by the sound of it, keeping her health in check is a constant and concerted effort that she consistently updates and tweaks over the years.
And while the aforementioned concoctions keep Aniston's body fit as fiddle physically, the actor also makes her mental health a top priority. Although a running joke amongst fans — and even former Friends cast mates — the actor's now-famous social media embargo is truly a move for her own sanity and well-being. "The one thing I have is maintaining this little circle of sanctity that's my own," Aniston explained in a 2018 interview with Elle. "If I'm sitting here posting something about my dogs or I'm Boomeranging my coffee mug in the morning, that's just giving away one more piece of something that is mine." Despite her admiration for real-life BFF Courteney Cox's Instagram efforts, Aniston explains that keeping up with the platform seems like a lot of work. "Some people feel like they have to do it, some people feel like they want to do it, and for some, it's an addiction — they can't not do it."
Fair enough. But, for argument's sake, what exactly would an official Jennifer Aniston Instagram or Twitter account look like? "I would want it to have a beautiful feel to it," explains the actor. "I'd want it to be an expression — not showing my insides to the world, but showing things that inspire me." Considering her already inspiring career and healthy lifestyle, there's no doubt Aniston's social media ventures would do just that. The world is waiting, Jen.