Jenna Dewan Is Obsessed With This Chic, Spring-Ready Bag
John Salangsang/Variety/Shutterstock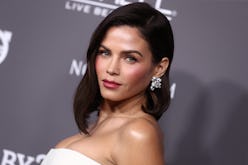 That bag you've been carrying all season has seen better days. Continuously suffering the cold, wet climate has left its leather cracked and sad, but rarely does one ever survive a harsh winter unscathed anyway. The purple bag Jenna Dewan has been wearing is the perfect spring upgrade.
Lately, the former World of Dance host has been relying on one statement accessory to add a pop of springy color to all her looks. The little leather bag is just big enough to hold Dewan's essentials and its purply pink shade radiates warm-weather vibes.
The D-ring detail on its convenient front flap complements a chain-link strap that Dewan has worn across her body or hanging from just one shoulder, depending on the outfit. She first debuted it back in Nov. with a pair of white pants and a navy-blue button-up. Then, after tucking it away for a while, she dusted it off in March to go along with a dark floral dress.
Most recently, Dewan paired her favorite bag over the simplest jeans-and-tee look, proving that it really does go with everything. The actor went out on Sun. with daughter Everly wearing a classic olive-green anorak, wide-leg jeans, and those Alia booties she loves.
The 38-year old simply can't get enough of this cheery handbag and it's obvious why. Whether paired with a pretty floral frock or low-key jeans and a graphic tee, the purple purse seems to work well with any look.
And what better piece to replace that old, weathered bag you've been wearing for months? Your entire wardrobe is likely in need of an upgrade come spring and this colorful accessory is a pretty good place to start.
Channel Dewan's look with a pretty purple statement bag of your own. The Zoe Report's top picks, ahead.
Shop The Look