Miranda Priestly Would Approve Of This Moody Fall Trend
Silvia Olsen/Shutterstock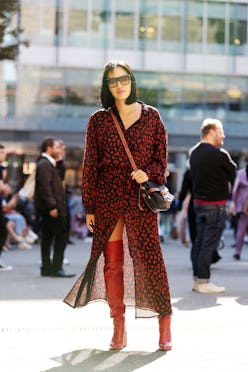 Miranda Priestly, the fashion force of nature in The Devil Wears Prada is not one to shy away from the truth, including expressing her boredom at the idea of florals for spring. Despite her blunt—and everlastingly entertaining—deliverance, Priestly does have a point, as the notion of donning cheery florals each time March rolls around can start to feel redundant. If you're in the market for a surprisingly fresh, and a daringly different alternative, now is this time to break out the print instead by embracing fall's latest crop of dark floral dresses.
This season, the perennial floral favorite is up for a reboot thanks to a variety of romantic mid-length floral dresses, along with delicate ditsy floral printed frocks, and bold moody florals printed onto sweeping dresses. By now, it's clear that the blooming print will never lose its enduring appeal, but rather than reserving your flower-patterned dress for the warmer months, it's time to usher in the reign of fall's darkly romantic print. Below, you will find four distinct ensemble that will show you exactly how to wear romantic floral print dresses, even as the real blooms outside begin to wilt and fade away. From a feminine dress bedecked in petal pink rosebuds, paired with a clashing zebra-printed jacket, to a streamlined iteration fashioned with pale yellow flowers, and paired with white combat boots, TZR selects the top dark floral dresses to wear now, along with a style guide that breaks down each varying look.
Pair A Ditsy Floral Print Dress with Chunky Boots
Ramp up a delicate ditsy floral print by opting for a dress with a streamlined silhouette in a striking lemon hue. Optic white chunky lace-up boots add a dose of edge, and simple gold hoop earrings make this look a surefire hit whether it's worn to the office or on a weekend outing.
Try Layering A Fitted Denim Vest Over A Dress
When topping off your dress during spring or summer, it's natural to gravitate towards that classic denim jacket you've been lovingly sporting for years. Instead for fall, go the unexpected route and elect to wear a fitted denim vest that's both tailored and streamlined. As the weather gets cooler, you can then layer thick turtlenecks underneath your favorite floral dress as a fresh alternative.
Clash Dark Florals With Zebra Print
Fashion thrives off juxtapositions, where romantic florals and brazen prints—take delicate rosebuds and striking animal prints for example —offer a surefire approach to reinvent your everyday style. Adding an of-the-moment print into the mix, like a zebra jacket over a ruffled floral dress, is one way to clash patterns like a true pro.
Make A Graphic Impact In Black and White Florals
For the minimalist at heart—who may not be accustomed to donning this season's pinks or yellow —look no further than Ganni's alternative take on the floral dress. A modernized silhouette with hints of bohemian details, and a classic black and white colorway, will carry you through the chillier months, especially when layered with a turtleneck and striking cowboy boots.