Jenna Dewan Is Releasing A Self-Help Book This Fall — Here's Why You'll Love It
Joe Scarnici/Getty Images Entertainment/Getty Images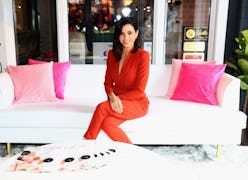 In addition to being an incredibly talented dancer and actor, Jenna Dewan just added yet another accomplishment to her resumé. You can officially call the 38 year old an author now that she's compiled all of her best wellness secrets into a self-help title you won't be able to put down come fall. Mark your calendars: Jenna Dewan's book is coming to a shelf near you in Oct.
This inspiring World of Dance judge is the epitome of elegance and positivity, even following her heart-rending split from Channing Tatum in 2018. News of the couple's divorce shook Hollywood to its core, but Dewan seemed to always approach the touchy subject with such poise. Why can't everyone be as effortlessly optimistic as her?
Well, thanks to Gracefully You: How To Live Your Best Life Every Day, perhaps you can. Dewan took to Twitter on Tues. to announce her latest project.
"I've been wanting to tell you all about this forever, and now I finally can: I've written a book," the Step Up actor wrote, tagging her publisher, Gallery Books.
Dewan's new self-help title will be your go-to guide to both physical and mental health, motherhood, meditation, nutrition, and friendship, according to The Hollywood Reporter. It's slated to hit shelves on Oct. 22.
"It's all about learning to connect deeply and find happiness in every aspect of your life through all the ups and downs," Dewan told her 5.5 million Instagram followers. "It'll be full of stories and photos from my life, as well as suggestions for home, health and relationships to help you live your best life."
The former background dancer has certainly never been afraid to try new things, working her way onto the big screen during the early 2000s and eventually becoming a red carpet regular. Whether she's posting photos of her playing in the snow or smiling through an early morning celery juice, she always seems to beam light.
When life throws Dewan lemons, she makes lemonade. If you're eager to adopt the energetic actor's ever-positive outlook — who wouldn't be? — then keep an eye out for Gracefully You this fall.
Until then, how about you pass the time with other acclaimed books by your favorite famous role models, Michelle Obama and Reese Witherspoon? Their respective memoirs, Becoming and Whiskey in a Teacup: What Growing Up in the South Taught Me About Life, Love, and Baking Biscuits, were both published last year.