Isla Fisher Swapped Her Iconic Red Hair For A New Shade & Looks Unrecognizable
Dia Dipasupil/Getty Images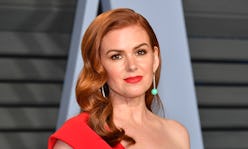 Nobody's taking the whole "new year, new you" thing more seriously than Isla Fisher, who just ditched her iconic red hair. The Australian actor debuted a drastic makeover via an Instagram selfie on New Year's Eve. In fact, Isla Fisher's new blonde hair is so different you might not even recognize her.
The Wedding Crashers actor rang in 2019 with a bang by dying her signature red hair light blonde. She shared the new look with her 1 million Instagram followers on Mon. with the caption, "Go blonde in '19 or go home."
The photo shows Fisher in glowy bronzed makeup with shockingly blonde hair. Her new layered look is a bright golden blonde with choppy pieces framing her face. She accessorized it with a sparkly goddess leaf crown, which was perhaps part of her New Year's Eve outfit.
The 42-year-old is known for her fiery red hair, having hardly ever even colored it (too drastically, anyway) for a role. It's unclear whether this latest change is for work or play, or whether it's even permanent at all. Perhaps she's just tucked her natural shade away under a very convincing wig.
If Fisher's blonde is permanent, though, she certainly isn't the first celebrity to go lighter this season. Despite being an unexpected cold-weather shade, going blonde in the winter is becoming a major trend. Already, Lucy Hale has lightened her chestnut hair to a golden hue and Hilary Duff took hers all the way to platinum a month ago.
It's no big thing when Hale and Duff switch up their hair colors, however, considering how many times they've tried out bold hues — from pink to blue — in the past. But for Fisher, who has, for the most part, stayed true to her red roots, this dye job is huge.
The actor has only ever gone lighter once, for her role in Scooby-Doo in 2002. She reminisced on her previous brief stint with blonde in an Instagram throwback in June, saying, "This period in my life convinced me that gentlemen do NOT necessarily prefer blondes."
She's seemed to have changed her mind since then. If you, too, have been wondering whether blondes really do have more fun, there's no better time than the start of a new year to find out. Book a seat at the salon and try Fisher's new shade out yourself.
Bring out the gold in your natural or color-treated hair with The Zoe Report's favorite products, ahead.
Shop Hair Products For Blondes