IGK Released The Brunette Version Of Its Fan-Favorite Toner & It's Just As Easy To Use
IGK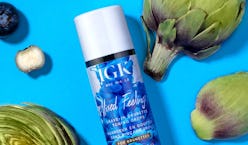 As you may know, the journey towards platinum blonde is a long, bumpy rollercoaster — and it's one often littered with purple shampoo bottles. However, the second I tried out IGK's original Mixed Feelings Leave-In Blonde Toning Drops, the ride got a little bit smoother. The $29 product is a no-brainer: All you have to do is squeeze out a few droplets of the ultra-pigmented toner, mix it with your fave styling product (or leave-in treatment), and voilà, your hair appears more toned and glossy in about 5 minutes flat. IGK's new Mixed Feelings Leave-In Brunette Toning Drops, which dropped July 16, are the next step in that original toner's legacy — they're just as convenient, portable, and easy to use. This time, though, they're blue.
Like, really blue. Inside one $29 bottle of IGK's new toner is a dark navy formula, which helps to banish brassiness from brunette tresses. How it works is simple: Similar to how purple toners (like the original IGK Mixed Feelings drops) are known to cancel out the yellow hues found in blonde hair, the deep blue Mixed Feelings drops tone the orange and red brassiness unique to brunette locks. You don't have to just use it outside the shower, either; you can spike your favorite shampoo or conditioner with the blue toner, creating a custom haircare routine for your very own brunette 'do.
Additionally, IGK's Mixed Feelings Leave-In Brunette Toning Drops are formulated with hair-nourishing ingredients that focus on enriching your strands. IGK notes in the product description that the formula's artichoke extract helps your color from fading, while the oh-so fitting blueberry extract treats hair with vitamins A, B5, C, and E.
Ready to make your hair-toning routine a little more low key? You can pick up IGK's new toning drops via the brand's website starting July 16. Beauty store aficionados will have to wait a tad longer: The new blue drops will be arriving online at Sephora July 23, in store Aug. 23, and at Ulta on Aug. 25, according to IGK's official Instagram account.
Ahead, IGK's new Mixed Feelings Leave-In Brunette Toning Drops.