Olsen Twins Movies Are Hitting Hulu Next Month For The Ultimate '90s Throwback
Jim Spellman/WireImage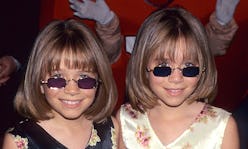 Bust out your platform slides and camisoles, because it looks like May is bringing more than just flowers this year. On the first of next month, an unexpected yet wholly welcomed blessing will hit TV screens once again, and '90s kids may want to sit down for this one. Award-winning fashion designers, cinematic icons, and downright national treasures Mary-Kate and Ashley Olsen are making a comeback onscreen. Hulu will stream three Olsen twins films from their coveted anthology: Billboard Dad, Switching Goals, and Passport to Paris. Praise be.
After brightening the lives of millions with their adorable TV debut on Full House, the Olsens went on to pioneer some of the most prized trends of the late '90s and early 2000s. From tiny sunglasses to wispy updos, the stylish sisters were high-key fashion icons, serving an aesthetic that nostalgic millennials still channel to this day.
Prior to going offscreen and making their foray into design, the child actors were already influencing baby fashion girls with their unique style sensibilities. Now, pumping out season after season of exquisitely crafted minimalist pieces via The Row, Mary-Kate and Ashley still stand as stylistic leaders to the same women who watched their films on the VCR way back when.
A quick scroll through Instagram is proof that '90s-inspired trends are still going strong among models and influencers alike. While Bella Hadid is sticking by small sunglasses and leather trench coats (The Favorite Adventures of Mary Kate and Ashley, anyone?), iridescent eyeshadow and strappy sandals will be big this summer, so it's safe to say 20 and 30-somethings are in their feels about the good old days.
In preparation for the cinematic masterpieces that are about to hit Hulu, channel the sisters and shop The Zoe Report's picks for their signature '90s style, below.
Shop The Look