What Does American Fashion Stand For In 2019?
Mike Coppola/Getty Images Entertainment/Getty Images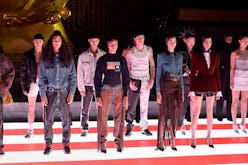 While the fashion industry has been in flux over the last decade as a whole, American fashion in particular has spent the last handful of seasons working through its own identity crisis. Designers new and old have had to bend to the ever-evolving demands of the social and digital landscape, competitive direct-to-consumer models, and increasingly demanding consumer behavior. But amid the challenges that have been presented, the truth of Americana — the commonality that has always been present in the work that the top American fashion designers present to the world — is that it has always been a mirror of society. And right now, brands new and old are returning (or evolving) their own takes on exactly what that means.
"At large, American dressing has always been influenced by lifestyle, the everyday wear," celebrity fashion stylist and historian Vanessa Menendez shares with TZR. "Where are we going? What are we doing today? Or the, 'dress for your job' idea. Today, those concepts for American dressing stand true, as American culture has taken a turn for the casual."
For American mainstays like Ralph Lauren and Tommy Hilfiger, that lifestyle has always been, and continues to be, aspirational. Both brands packaged up the concept of cultural capital in polo shirts and blue denim that was in demand everywhere, by everyone — from teenage girls that played tennis after school to rappers in Harlem.
They evoked collegiate charm with their everyday wear, and the essence of the late Carolyn Bessette-Kennedy's crisp, minimal style on the runway. Today, both brands face the challenges of establishing new, modern identities that can both compliment and be differentiated from their legacies. But as they carve out newer niches, the influence of their rich design history is undeniably referenced in the collections of younger, more niche labels like Rowing Blazers and Aimé Leon Dore. Their respective collections sharp, but simultaneously down to earth; trendy but timeless. "Rowing Blazers is a quintessentially American brand, built on the American classics, the staples of American collegiate or "Ivy" style," explains Jack Carlson, Rowing Blazers' founder. "America is a melting pot, and one of the great things about American fashion is the ability to mix influences, styles, ideas. It's the home of surf, skate, and street style too."
As a legacy brand, Coach has done a particularly smart job of capturing more literal interpretations of Americana — suede fringe, floral prairie dresses, bolo neck ties, western studded boots — in a way that doesn't feel so nostalgic that it comes off as trite, with a real focus on the people and moments that are shaping American culture today.
"Coach is taking some of the biggest American influences in pop culture, from Selena Gomez to Michael B. Jordan, and not only having them dress in their newest collections, but discuss big topics in American culture while wearing pieces that also represent signature American looks, with a modern twist," Menendez adds. For its Fall/Winter 2019 collection, Coach took inspiration from the dress codes of subculture, "dismantled and reassembled, dipped in psychedelia. It was wearable, defiant, and full of free-spirited grit."
"The company's history is the idealized rags-to-riches story of a family growing and building their business into an international phenomenon that the average American dreams of," says Mariana Leung, a New York City-based fashion consultant who has worked with American legacy brands including Coach and Nautica.
For younger designers, the concept of Americana and interpreting the "American dream" is wider-reaching, with a number of notable newcomers finding unique niches that still pay tribute to their heritage.
"The younger generation of American designers seems to have also fractured, each going our own way, doing what feels right for each of us," said Proenza Schouler founders Jack McCollough and Lazaro Hernandez in an interview with WWD. "Everyone seems to be trying to come up with ways to modernize the sometimes archaic system of fashion." After a few seasons in Paris, Proenza Schouler returned home to show its collections once again during New York Fashion Week. The label's Fall/Winter 2019 show encapsulated its own New York — every day armor for empowered people who love a good layered look here, some oversized tailoring there. Deconstructed knits meet American middle-class references of Dickies, and denim vests over trenches.
Rising star Emily Bode of craft-centric menswear label Bode has created a notably unique mark that feels truly homegrown. Born into an Atlanta-based family of heirloom enthusiasts, Bode spent her time scouring through American antique shows and markets with family, only to take eventually take the vintage bug with her to Parson's, and inevitably New York Fashion Week. Although she presented her first runway show early this year in Paris after seasons of homespun presentations in downtown New York, Bode's Spring/Summer 2020 menswear show was a nod to her familial ties to a wagon shop based in Cincinnati, Ohio that produced larger-than-life creations for the Barnum & Bailey and Ringling Brothers circus in early 20th century America. The show was filled of buoyant adaptions of classic workwear, vintage prep sportswear, and crotchet ensembles — a gentle, captivating, and comforting reminder of both past and present.
In 2019, it would be impossible to ignore the way current politics and social consciousness is shaping modern American fashion. In June of 2018, outside of any fashion week calendar, Alexander Wang debuted his "immigrant Americana." Inspired by a road trip he took with his family where he had asked his parents, who emigrated to the United States in the 1970s without speaking English, about their coming to America story. In the political context of today — where immigration and what it really means to be an American are topics discussed at every table — Wang's diverse cast, dressed in a mix of references to their heritage and American pop-culture, felt particularly important. It was punk, it was motorcycle culture, it was leather, and studs, and bandanas, and American flags. Donald Glover's "This Is America" took a strong hold of the soundtrack. In his most recent Spring/Summer 2020 collection, the theme is broadened, if not elevated, with sleek New York-inspired trenches, leather and western suede, '90s-ish light blue washes of denim, logo tees and sweaters playing off classic Ralph Lauren and Calvin Klein motifs, and even a statue of liberty headpiece, presented on a strong, multiracial cast.
If Wang shows a melting pot, an America of optimism, then Pyer Moss shows an America of truth. The label's Spring/Summer 2019 presentation was the first to bring New York Fashion Week to Weeksville, a neighborhood with rich cultural history. Founded in 1838, a decade or so after slavery was abolished in New York, it became one of America's first free black communities. Designer Kerby Jean-Raymond set the scene at the Weeksville Heritage Center with a gospel choir and an all-black cast, with draped silks and beaded shift dresses; screen prints of custom portraits of black people doing "normal things" as described by Jean-Raymond. There were red carpet-ready gowns followed by sharp sportswear, with phrases like "See us now?" emblazoned on the fabric. Working through the collection, Jean-Raymond had been contemplating the current landscape of African-American life. Both the collection and show remembered past and pain, but ultimately, celebrated life and joy and opportunity.
"We are living in a time in which America is being scrutinized for its leaders, and its lack of togetherness," says Menendez. "Revisiting the Americana look is American fashion [designer's] way of saying with confidence, 'This is what America looks like.'
And the beauty of declaring what America looks like through modern fashion, is that has and will always look different for everyone creating.