This Preppy Throwback Is Every Street Style Star's New Favorite Styling Piece
Shutterstock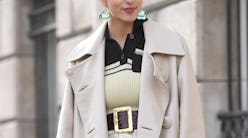 Fashion trends, whether outwardly acknowledged or not, are intimately tied to cultural nostalgia. Barrettes, shoulder pads, cowboy boots, prairie dresses — they yank on the emotions that evoke memories of past outfits (and maybe a comical fashion faux-pas or two). Lately, one style experiencing a reboot is the preppy polo shirt. This chameleon trend first started as the uniform of choice for polo players in India during the 19th century and grew in popularity during the 1930s with Jean René Lacoste's iteration featuring the now-iconic green crocodile. Fast forward a bit, and you'll find that in 2019, how to style a polo shirt and what the trend even represents has come a long way from the early days.
Thanks to brands like Tommy Hilfiger and Ralph Lauren, the top became a must-have for everyone from country clubbers to hip hop stars.
During the 2015 documentary Fresh Dressed, interviewees discuss two New York gangs of the '80s who routinely shoplifted the Polo Ralph Lauren stores. According to Complex, they saw the brand — as well as the ability to wear it head-to-toe — as a status symbol. The film lends context on how this influential subculture adopted the tennis staple and transformed it into something with a wider cultural caché. It's a reminder that the trend is one with a complex cultural history, and that its popularity has societal implications that stretch beyond the actual design itself. (After all, it's just a shirt with a collar and some buttons.)
The latest resurgence of the classic polo shirt can be traced back to last spring. For 2019, there's surprising range from brands you might not expect (Tibi, Miu Miu, Sonia Rykiel) as well as traditionally classic designers that have reimagined their take on the classic piece (Tory Burch and Burberry, for example). British influencer Brittany Bathgate, whose style marries classic and contemporary, is onboard with polo shirts for spring. "I think with the 'dad' trend still going strong, the polo shirt was inevitably going to come back around, and I'm totally here for it," Bathgate tells TZR. "I've always loved a preppy look, for spring I'll pair my knitted version with some loose fit jeans and delicate ballet flats."
Ahead, a handful of outfit ideas incorporating the polo shirt and the season's best offerings to help you test drive the trend starting now.
Brittany Bathgate's clean, minimalist take on the polo shirt is a perfect outfit to keep in your back pocket for when you need a polished look in a rush.
A pop of color is always an effective style strategy; this spring make yours by way of a sky blue polo.
For the statement making inclined, go for the unexpected and style your polo shirt underneath a party dress.
Contrast a collegiate-looking polo with a sequin skirt and structured overcoat for a thoughtful outfit that translates from office to after-hours.
Don't over think it — sometimes a bright polo and blue jeans gets the job done.
Say hello to your new spring weekend uniform. A sporty polo and sneakers are an effortlessly cool combination.
Style your polo with an A-line mini skirt for a sweet look that feels like a subtle nod to The Swinging Sixties.
Opt for a polo with a few different colors in the design to help tie together your look.