The $28 Red Lipstick Katie Holmes Relies On For All-Day Color
Jemal Countess/Getty Images Entertainment/Getty Images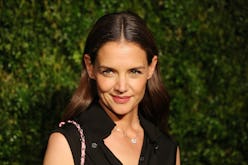 One thing was brighter than the red carpet during Thurs. night's Harry Winston jewelry event, and it was Katie Holmes' red lipstick. The actor paired her sleek, Zac Posen dress with a vibrant, orange-red lipstick in what was one of the strongest looks of the evening. And besides its $28 price tag, there's another reason you're going to want to scoop up Holmes' lipstick: It's a creamy, long-lasting formula that doesn't budge (which, as any makeup aficionado knows well, is a tough find in the red-lipstick realm).
Although you'd assume a red-on-red look would be overwhelming, Holmes' surprising combination was an instant win. Instead of pairing her off-the-shoulder dress with a subdued lipstick — think: nude, peach, or pink — the actor opted for a firey, orange-red for the ultimate old-Hollywood aesthetic.
Anyone who's experimented with matte-red lipstick has learned the hard way that the bolder the color, the dryer your lips can get. An evening of eating and drinking requires a comfortable lipstick — one that will stay on through dinner and champagne and won't leave your lips irritated in the process.
That's why Holmes' makeup artist, Genevieve Herr, opted for such a strong formula. Enter, Laura Mercier's Crème Smooth Lip Colour.
"So classic and beautiful tonight," Herr captioned her Instagram photo of Holmes' look. Herr, who also works with the likes of Anne Hathaway and Jennifer Garner, says she painted Holmes' lips with Laura Mercier's Crème Smooth Lip Colour in Portofino — a bright, brick-red with orange undertones.
Thanks to powerful, ultra- hydrating ingredients — namely olive oil and vitamin E — the formula is lightweight and moisturizing without any problematic bleeding or setting into lip lines. And at $28, it's not bad on your bank account, either.
Get The Look
Finding the perfect red lipstick isn't as hard as it sounds. In addition to choosing the right color — you can gravitate towards brighter shades like Holmes or opt for darker hues with blue undertones — longevity and comfort are key. Remember: At the end of the night, your lip color should be as visible as your lashes, and both should be in the same position in which they were applied.
If you've found yourself avoiding a bold lip because you haven't found the right formula just yet, it's time to get technical with your search. Ahead, The Zoe Report breaks down the best, creamy red lipsticks for long-lasting coverage.
Shop Creamy Lipsticks