The Unexpected Winter Styling Trick I Swear By
Christian Vierig/Getty Images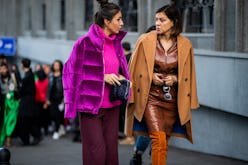 Winter usually comes in last on the list of most people's favorite seasons, at least sartorially — and the general disdain for the cold is understandable. Not only do the ever-shrinking temps make it tough to leave the house, but factor in an impromptu snowstorm and suddenly, it's hard to imagine getting dressed — let alone putting together an outfit that looks, well, put-together. For me, however, winter is the most inspiring season of all: the plush coats, the chic boots, the layers. But figuring out how to layer in the winter without looking bulky is no easy feat.
Though it may seem smart to pile on chunky sweaters, an even cozier coat, and hope for the best, the warmest winter outfits are a tad more strategic; it's easy to go overboard and end up like the kid from A Christmas Story, immobilized and silly.
Instead, when getting dressed, I like to visualize a winter fashion Venn diagram, with the goal of dreaming up a look that fits right into the tiny sliver of overlap between stylish and practical. That means each look has to have the perfect combination of warm base-layers, substantial outerwear, weather-appropriate footwear, and cozy accessories — all piled on in a way that looks intentionally chic, not haphazard.
The main trick to layering in the winter successfully is to keep textures in mind: An oversized wool sweater might look great underneath a coat with a cocoon-like silhouette, but if you swap it for a longline jacket, it'll no-doubt bunch uncomfortably. Instead, think about layering thinner knits atop one another.
Ahead, my favorite way to layer in winter without looking like Randy or the Michelin Man — unless, of course, that's what you're going for.
The Base Layer Top
First things first: Any warm winter outfit should start with a barely-there base layer. While I love Uniqlo's Heattech when I'll be outside for an extended period of time, I'd rather opt for something a tad less performance-based for everyday wear.
For days when I'm just looking for a snug fit, I grab this fine-knit turtleneck from COS. Last winter, I bought it twice after realizing I was reaching for it nearly every morning. It's that good — and won't pill in the wash.
The Layerable Sweater
Next up is the main focus of your outfit — aka the piece you'll probably wear on the outside after you get to work. While I truly love a chunky sweater, the key to looking chic in more than four layers is to keep each one thin enough to allow for — you guessed it — another layer. This simply style from Khaite is the perfect in-between knit. If you're unsure about how thick to go, see how yours feels bunched at the elbow. If it's uncomfortable, it's too thick.
The Unexpected Hero: The Winter Suit
If you truly have to be presentable, the best way to do so in the winter is with a matching suit. I like to wear mine a tad oversized, which offers enough room for both sweaters (or, if you're feeling saucy, a hoodie) underneath.
Look for one in a subtle print or on-trend color, like this pick from Veronica Beard, that'll still feel wearable well into the spring.
The Wear-With-Everything Belt
Though I like to wear my suits open, for a bit more definition, secure a belt around your waist. This iteration by Rachel Comey toes the line between on-trend and timeless.
The Longline Coat
The best way to top off a winter outfit without looking bulky is with a longline, belted coat — even if you've already belted your suit beneath it. (Bonus points if it allows the matching suit's lapels to peek through.) The key to making outerwear layerable is a thin lapel and a straight hem, like this one from Frankie Shop.
The Puffer
On truly frigid days, it's probably necessary to swap out your longline coat for something more substantial, like a puffer. This specific hooded style from Aritzia is double-lined, and it's easily one of the warmest coats I've ever worn. (It fits cropped on longer torsos, but if you barely clear 5'2" like me, this puffer will fit just below the hips.) Plus, the on-trend camel hue just makes doing the whole head-to-toe monochome thing that much easier.
The Socks
If 2019 was the year of the sparkle sock, 2020 will be the year of the dad sock. This fun pair from Gucci feature a contrast logo — and they'll keep your feet toasty all the way through spring.
The Fun Accessory
Need a good reason to leave your beanie at home? Sure, there's nothing truly practical about this crystal hair clip, but even the most reasonable of winter outfits call for a fun accessory, like this barrette from Jennifer Behr.
The Snow Boot
Do I even have to convince you that these Bottega Veneta boots, what with their lug sole and tall upper, are the best winter boot to buy this season? I didn't think so.
The Everyday Boot
For days when snow isn't in the forecast, I like to swap my chunky boots with a more streamlined pair. This white style from Designer Lauren Bucquet, a Rag & Bone veteran, is perfectly chic without feeling too everyday.
This article was originally published on