5 Trendsetter Secrets To Pulling Off A Chunky Knit
@gabifresh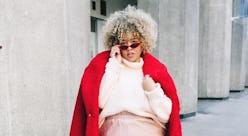 A chunky sweater may be the coziest piece in your winter wardrobe — but, as the name implies, there's a lot of extra material involved, which can make it a challenge to style. Sure, an oversized knit is great for travel or lounging around the house in your sweatpants, but when the goal is to wear one with polished effect, you might not know where to begin. With chilly weather in full swing, figuring out how to wear chunky sweaters is a styling trick better learned sooner rather than later.
That's where fashion influencers come into play. With endless #ootd snaps under their belts, these sartorial pros have navigated their way around a range of chunky sweaters from cable knits to cashmere (a few scrolls through their Instagram feeds will result in loads of winter outfit inspiration). Inspired by the looks (and tips) from five stylish pros, you'll have everything you need to pull off this winter staple like a fashion influencer — and avoid lumpy-looking outfits in the process. Ahead, read on for style insight from five of the savviest gals in the biz, and shop each look so you can break out the chunky sweater sitting in your closet ASAP.
How To Wear Chunky Sweaters Like Christie Tyler, @nycbambi
When styling a chunky sweater, Christie Tyler — whom you likely know as @nycbambi on Instagram — says to keep the rest of your outfit minimal so that your knit can be the statement piece. "Accentuate a chunky knit with a belt at the waist, a minimal bag, and cozy pants or trousers," says Tyler. To elongate your frame amid hefty layers, the fashion influencer says, "boots or a simple pair of heels will do wonders for this look."
How To Wear Chunky Sweaters Like Gabi Gregg, @gabifresh
Gabi Gregg — aka @gabifresh — likes to mix textures when wearing a chunky sweater, often pairing her knit of choice with sleek pieces like a patent skirt or a slim trouser. The co-founder of the affordable plus-size label Premme is also for breaking outdated fashion rules. "Don't be afraid of bulk! So often curvy girls are told to avoid chunky sweaters, but I think they look great on all body types, and lean into the vibe by adding an even chunkier teddy bear coat."
How To Wear Chunky Sweaters Like Alyssa Coscarelli, @alyssainthecity
Petite frames are easily overwhelmed by fabric, but fashion influencer and freelance writer Alyssa Coscarelli has a go-to fashion formula when it comes to chunky knits. "Even though I'm petite — coming in at just 5'1" — I think the best way to style a chunky sweater is to go oversized all-over," Coscarelli says. "Throw it over a midi shirtdress and some equally-chunky combat boots for a cozy fall outfit that takes a page out of the Olsen twins' book of oversized ensembles. The weight of the platform boots balances the big sweater up top, and the dress underneath brings the whole look together."
How To Wear Chunky Sweaters Like Madelynn Furlong, @madelynnfurlong
When taking an oversized sweater into evening, opulent fabrics like sequins, satin, and beads are a glamorous offset to a cozy textures, as proven by influencer Madelynn Furlong. "Style a chunky sweater in a way that still shows off a bit of figure, like with a skirt so that you'e not completely buried in fabric," Furlong says. As for your footwear, high-shine boots in glossy patent or satin are a so-cool finish while minimal sandals feel perfectly nostalgic.
How To Wear Chunky Sweaters Like Jannel Therese, @streetstyleteller
"Chunky-knit sweaters are a great canvas for layering," says fashion influencer, Jannel Therese who goes by @streetstyleteller on Instagram. Whether you style one under a slip dress with white sock boots like Therese or over a floral-printed frock with cowboy boots for juxtaposition, a chunky knit is the perfect piece to transition your lighter weight items into cold weather. For sartorial punch, go for a boldly colored chunky sweater like a trendy neon shade or earthy, ochre hue.