3 Ways To Layer Sweaters Like A Fashion Trendsetter
Wayne Tippetts/REX/Shutterstock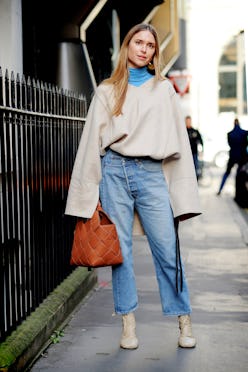 The moment fall weather hits, there's no greater feeling than a cozy sweater to envelop yourself in. There is a common challenge, however: figuring out how to layer sweaters and not look like a marshmallow in the process. Whether it's a knit-on-knit look or dress-and-turtleneck ensemble, piling on the pile is forever an obstacle.
But, never fear. To help de-code sweater layering, Shopbop's fashion director Caroline Maguire shares three fresh layering ideas you probably haven't thought of before. As a New York resident and fashion expert, Maguire is ready to reimagine how you'll handle sweater weather this year. She recommends spotlighting the season's most vibrant styles, offering real-life ways to wear them (and avoid the dreaded stiff arm-look that can occur when layering chunky pieces).
Sure, neutral knitwear is essential in every wardrobe — a black turtleneck is likely the hardest working piece in your cold-weather closet — but according to Maguire, this fall is all about color and print. The abundance of '80s influence in designer collections like Tibi and Prada has a lot to do with this. Highlighter hues, daring leopard and snake-print, and graphic checks and motifs are the season's top contenders for statement-making knitwear — you can chock it up to the continuing maximalist fashion trend that seems to be only gaining steam.
Layering these bold-as-can-be pieces together might not come to you inherently, but it's exactly how to level-up your sweater game in the new season, and not to mention, is a genius way to stay warm in brisk temperatures. So, why not break your style mold in favor of a bolder, brighter look? Shop the edit of pieces below to re-create each of Maguire's must-try layered looks.
Chunky Novelty Knit + Long Dress + Cowboy Boots
"This season, knitwear is all about novelty knits from chunky textures to '80s prints with bright, bold colors," Maguire says. "I plan to rock a long dress layered with a chunky knit on top. A belt to accentuate my waist paired with a western boot completes the look." To keep the look of a novelty sweater streamlined, stick to a tonal palette for a cohesive finish.
Colorful Animal Print + High-Neck Neutral
"The more animal print, the better! I am obsessed with animal prints in color for fall," Maguire says. For easy layering, opt for a colorful animal-print sweater and layer a fitted high-neck sweater or top to style underneath in a neutral color like black, white, or camel.
Bright + Even Brighter
For your boldest and brightest layering look for fall, double up on brights from highlighter yellow to electric green. "Tibi had amazing V-neck sweaters in vibrant colors this season," says Maguire. "Layer a neon long-sleeve shirt underneath to really accentuate the color combo." To temper the effect of bright-on-bright, reach for your favorite jeans on bottom or go with a simple skirt or trousers in a solid color.