How To Refresh Your Eye Makeup Routine — Now That It's All Anyone Sees
@halfagemini / @carorolee / @_chimedolker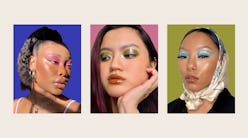 Summer makeup is typically synonymous with bronzer, blush, and punchy lip colors, but things aren't so traditional this year. These days, most visages are covered by an often-required face mask, rendering the previously mentioned products useless — a small but sad price to pay for proven safety. However, not all is lost when it comes to beauty; eye makeup is still very much in play, since eyes are the only facial feature not covered by a mask. So there's no better time than the present to refresh your eye makeup routine — whether that means with colored eyeliner or rhinestone adhesives (or both).
"Mask makeup is definitely a thing," celebrity makeup artist Amber Amos tells The Zoe Report over email. And she's right; in the span of five months, the need for facial coverings has led to an onslaught of bolder, brighter, and more daring eye looks — most of which seen solely on Instagram. Celebrities and influencers alike have taken this social-distancing time to experiment with nontraditional colors — like neon — and adventurous graphic eyeliner designs, all the while posting it for your Pinterest needs. But aside from gleaning "likes" and inspiration, or simply being something that fills your time, eye makeup is "a great way to be able to express your individuality whilst wearing a mask," says celebrity hair and makeup artist Charlotte Hayward to TZR via email.
Before jumping into some of the season's trendiest looks, though, there is one very important thing you probably need to be mindful of. This is, of course, the heat — and, in turn, the sweat — that on any sunny day can ruin your makeup in less than 30 minutes. So how exactly does one beat the heat and keep one's eye makeup intact?
Celebrity and editorial makeup artist Samuel Paul, who's worked with Tracee Ellis Ross, Priyanka Chopra, and SZA, tells TZR that the key to a long-lasting eye look is a locked-in base. "To keep eyeshadow in place use a primer — my favorite is NARS Pro-Prime Smudge Proof Eyeshadow Base," he says. "There are a few skin tone shades to choose from to even out your eyelid while making any eyeshadow on top last longer and enhance the eyeshadow color."
For Hayward, a good concealer is key; her top pick is Glossier's Stretch Concealer. "It doesn't crease or dry out on the delicate skin," she says. "It's a brilliant way to get the area looking fresh before adding any eye makeup." And when all else fails, Amos suggests turning to tried-and-true budge-proof eye makeup formulas: "Go with your long-wear, waterproof, anti-smudge makeup options," she says.
Once you've prepped your way to an all-day look, take Hayward's advice and try something different: "A new product or color is always fun and a great way to change up your eye look subtly or, if you like, with more impact." Jump off the deep end with a bold, sunset color story that blurs from your eyelid to your cheek, or simply elongate your standard eyeliner past its usual point. The gamut is wide, so keep reading for all the best summer looks TZR has found on Instagram.