Make Your Kitchen So Much More Efficient With This $8 IKEA Find
metamorworks/Shutterstock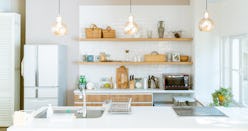 Now is the time to finally take on that big home project you've been putting off. And among those that tend to float to the top of your "I'll do it later" list is your kitchen: De-cluttering, disinfecting, and general redecorating among the potential to-do tasks there. But it doesn't all have to be so intimidating. With tips on how to organize your kitchen from the pros, it's a lot more doable than you think. In fact, it might only take a few key products that also happen to be totally affordable.
You already know that IKEA is a great go-to for storage and organizational products that won't break the bank, so who better to check in with than Kathleen Wilber, Kitchen Sales Leader at IKEA US? Not only is she well-versed in IKEA's latest and greatest products, but she's also got the scoop on which ones customers turn to time and time again for their kitchen needs.
Based on all that, Wilber shared a few recommendations for The Zoe Report that will put your kitchen together in no time — some for as little as under $10. So whether you need something to make your open shelves look more put-together, a place to stash the kitchen essentials you want close at hand, or a cart that can carry odds and ends, she's got you covered. Ahead, find nine of her best suggestions to get your cabinets, drawers, walls, sink, and whatever else organized.
We only include products that have been independently selected by The Zoe Report's editorial team. However, we may receive a portion of sales if you purchase a product through a link in this article.