The Shampoo You Need For Shiny, Hollywood-Level Hair
IMAXTREE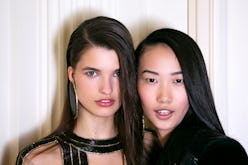 Gaze upon the most recent looks from Giambattista Valli, Balmain, Giorgio Armani, Moschino, Prada, Christopher Kane, and Versace. Sure, the fashion is noticeable — that is, if you're not too distracted by the light bouncing off the models' shiny, shiny strands. "Glossy hair finishes are the complete opposite of dry-textured, disheveled, messy hair, which was just in season," Riawna Capri, the co-founder of Nine Zero One Salon and stylist to Julianne Hough and Ruby Rose, tells The Zoe Report. And thankfully, ways to get shiny hair are just as easy to execute as your go-to messy pony.
"On a physical level, the shininess of the hair all depends on what condition the cuticle — the outer layer — is in," Irinel de León, a celebrity hairstylist who works with Kendall Jenner and Hailey Bieber, tells TZR. She compares the cuticle of the hair to the scales of a fish: "When the cuticle lies flat, the light is easily reflected, giving it that glossy effect," de León says. According to the stylist, there are many factors that determine how flat your cuticle will lie, including "sebum or product buildup on the hair, damage from chemicals or heat styling, and pollution."
Capri agrees that "a smooth, strong, and healthy cuticle" is essential for hair that glows — but don't panic. The nine expert-approved tips ahead will have your hair healthy and glossy in no time.
Use A Clarifying Shampoo
"Throughout the week, we accumulate product buildup, oils, and dirt in our hair, which prevents it from being shiny," de León says. "Using a clarifying shampoo once a week will give your hair the help it needs." She recommends Christophe Robin Cleansing Purifying Scrub with Sea Salt or Bumble and Bumble Sunday Shampoo.
... Followed By A Hydrating Conditioner
"Next, use a conditioner like Nexxus Humectress Moisturizing Conditioner," de León suggests. "It replenishes the hair of moisture, leaving it silky, smooth, and ready for styling." Once a week, add a deep-conditioning mask to the mix. "IN COMMON's Velvet Cloud Universal Mask features avocado oil, which is rich in amino acids, vitamins, and fats," Capri says. (The stylist co-founded the haircare brand, by the way.) "Avocado oil is one of the few oils that can actually penetrate the hair shaft and truly moisturize your hair, instead of just sitting on top and coating hair — and hydrated hair is healthier, shinier, and bouncier."
Hyaluronic Acid Is For Hair, Too
"Hyaluronic acid holds up to 10 times its weight in water, which is amazing for moisture control," Capri says. She credits the ultra-hydrating ingredient with smoothing strands, preventing breakage, and loosening tangles. Find it in IN COMMON's Magic Myst or Static Silk treatments.
Embrace Hair Oils
"Oils, like marula oil, won't weigh down your hair, but will provide moisture for the hair," Capri says. "More moisture means more shine."
Opt For A Boar Bristle Brush
"Using a boar bristle brush like a Mason Pearson works wonders," according to de León. "If you're going for a shiny and bouncy blowout, then the Ibiza round brushes are my go-to. They've got a great grip on the hair and always leave it super shiny."
Skip The Heat Styling (If You Can)
When it comes to keeping the hair cuticle flat and glossy, "the less heat, the better," Capri says. If you have to heat style your hair, de León loves the Color Wow Dream Coat for shine and protection. "Apply it on damp hair before you blow dry and it will change your life," she tells TZR.
Finish With A Shine-Enhancing Product
"I also love to use the OUAI Hair Oil once I'm done blow drying and styling, since it gives the hair added shine," de León says. And don't forget to address frizz: "To tame any flyaways, Balmain Session Strong Hairspray is my go-to. Spray some right on the palm of your hand and slide right down the top of the head for a sleek, flyaway free-finish." While the Balmain oil isn't available in the U.S., R+Co's new Two Way Mirror Smoothing Oil works just as well.
Get Frequent Trims
An unexpected benefit of regular trims? Glossy, glowy hair, per Capri. It makes sense: To add shine, you've got to shed those scraggly split ends.
Sleep On A Silk Pillowcase
"Regular cotton pillowcases absorb the moisture in your hair," de León says. "I love the SLIP pillowcases because they help preserve your hair by not adding stress while you sleep." After a month of sleeping on silk, you'll notice your hair looks as sleek and shiny as... well, you know.