How To Get Kourtney Kardashian's Smile, According To Her Dentist
Dave Kotinsky/Getty Images Entertainment/Getty Images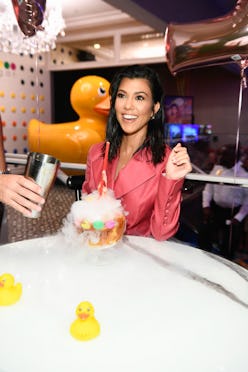 October 5 is officially World Smile Day, and although smiling should be celebrated year round, it's probably a good time to focus on how you can makes yours as happy and healthy as possible. And who better to weigh in on the topic than the man responsible for Kourtney Kardashian's perfect pearly whites? (It's not just great lighting — her teeth are good.)
In fact, some of your favorite famous smiles can be attributed to Dr. Kevin Sands, who's polished and perfected the teeth of the whole Kardashian/Jenner crew, Justin Bieber, Jennifer Lewis, and even a few Victoria's Secret angels. It's safe to say he's got a pretty good sense of how to best get your teeth sparkling like the stars (both literal and figurative).
Getting a Kardashian-esque smile is actually simpler than you think. There are just a few things to be mindful of, says Dr. Sands. "The biggest tip I can give someone looking to maintain a healthy smile at home is nightly flossing and regular cleanings with your dentist," he explains. "Honestly, preventing stains from building up in the first place is the best way to maintain a bright smile." A check-up every six months is ideal, but in between visits you can care for your teeth at home with one worthy (and slightly obvious) investment piece. As the famed dentist explains, "A good electric toothbrush is the best investment a patient can make for at-home care."
In addition to the handy tool, there are a few new brands making at-home dental care easier than ever. Ahead, learn a little about three innovative companies to try out, as well as the products that can help you feel better about your smile — in addition to regularly checking in with your own dentist, of course.
Quip
Quip — which offers both a la carte products and subscription-based auto delivery services —was created with dentists' advice in mind. For example, its stylishly designed electric toothbrush vibrates to eliminate the need for forceful (and therefore damaging) brushing, plus it's set at the recommended brushing time of two minutes, pausing at 30 second intervals so you know when to switch sides.
Twice
Twice is innovative in two ways: 10% of the brand's proceeds go to helping oral care in underprivileged areas via GLO Good Foundation, and it's come up with a way to make twice-a-day brushing feel a little less like a chore and more like a wellness ritual by creating a toothpaste duo. Free of parabens, SLS, sugar, sulfates, and other potentially harmful ingredients, the products offer separate solutions for day and night dental care.
The peppermint-packed Early Bird contains sensitivity relieving, whitening, and mouth-freshening ingredients to start your day with, and the Twilight tube soothes and helps you unwind with lavender and vanilla — while still helping prevent cavities.
Boka
Mindful brand Boka merges natural and science-backed solutions to dental hygiene. Also available as a subscription-based delivery service (or you can order products individually if you prefer), the company offers traditional brushing tools with a twist: the electric toothbrush boasts activated charcoal bristles, the oral rinse is created with cold-pressed organic coconut oil (known for its natural antibacterial properties), and the floss is made using natural beeswax — and without Teflon or petroleum.