How Candice Swanepoel Stays Cool, Calm, & Collected Before One Of The Biggest Televised Events Of The Year
Dimitrios Kambouris/Getty Images Entertainment/Getty Images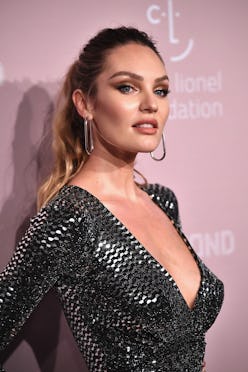 Stress does not typically set one up for success. For many the anticipation of a big event, public speaking engagement, or an important conversation can send you into a state of panic. And if anyone knows this kind of pressure, it's Victoria's Secret Angel Candice Swanepoel. As one of the OG stars of arguably the biggest televised fashion events of the year, the model has long mastered the art of de-stressing quickly, even when strutting down a runway in angel wings that weigh more than a small child.
The Zoe Report recently caught up with Swanepoel as she prepped for the lingerie extravaganza that is the Victoria's Secret Fashion Show (airing December 2) to get the scoop on how she stays so cool, calm, and collected during such a stressful time. In the modeling world, this event is the big kahuna of televised shows, so keeping calm and strutting on is key. Between the rehearsals, interviews, and actual day of reckoning, there's a lot of static electricity in the air for the show's participants — and it's not always the good kind. But after you've donned the Fantasy Bra in front of millions of people and given birth to two children, you learn not to sweat the small stuff … much.
"I mean there's no avoiding the freakout," says Swanepoel. "To kind of stay calm, (I try) maybe some yoga." (The model joins the 62% percent of adults who say they exercise or walk to help manage stress and report the technique as incredibly effective.) But when she's not in crow pose, a little quiet time does the trick in calming the nerves, as well. "I try to keep my home in order, burn some incense, and get into my vanity vibe." Yes, it seems self-care comes in the form of the simple things, and that also includes nesting and spending time with her two sons. "I love to have a clean house and just to be at home with my kids," she explains. "Once they go to bed, I can have my moment to read or just chill. I'll just be trying to stay calm."
And, if you've seen her in any number of runways she's graced, you know calm is exactly how she appears, so the proof is definitely in the pudding. And while a majority of the human population will never experience a Victoria's Secret Runway situation, there are plenty of other monumental events and moments that can rattle the nerves and in which the model's tips might come in handy. And while your idea of chilling out may include some variations of Swanepoel's in that you prefer a candle over incense or a bath over organizing your sock drawer, any way you choose to slice it, just make sure you slice it.
So, the next time you run into a particularly stressful day at work or major occasion, take a page from Swanepoel's book and either keep calm, clean up, practice some downward dog, or read a good book. Or, if you're feeling especially stressed or ambitious, do them all at once.