All The Hourglass Launches To Get Excited About This Month (Including An All-New Brow Pencil)
Courtesy of Hourglass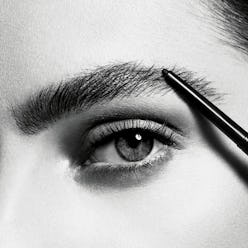 The eyes may be the window to the soul, but that doesn't mean they can do all the heavy lifting by themselves when it comes to creating a high-impact look. In fact, it's completely arguable that your eyebrows are just as important in the quest for eye-catching beauty, considering they can add structure, drama, and show-stopping glamour to your overall appearance. And if your brow game is in need of an upgrade, turn your attention to Hourglass' Arch Brow Micro Sculpting Pencil — it's the newest addition to the brand's Arch Brow collection that'll help you enhance those all-important face framers like never before.
Summer Fridays are already great (hello weekend and all its sun-filled fun), but the news of some exciting new beauty launches makes the day that everyone's been working toward all week even better. And on Friday, July 19, Hourglass announced three fresh launches that fans of the very glam brand are bound to love.
Among them is an ultra-precise brow pencil that everyone from eyebrow grooming novices to all-out pros will be very excited about. The Arch Brow Micro Sculpting Pencil, $28, joins the already-robust Arch Brow range of eyebrow-enhancing products to offer up Hourglass' most delicate, natural-touch brow pencil yet.
"Our Arch Brow Collection have become favorite go-to brow products for our customers and we saw the opportunity to develop a pencil that offered hair-like strokes without the microblade commitment," Marc Reagan, Hourglass Global Director of Education, Artistry and Events tells The Zoe Report. "It has a unique oval-shaped 1.4mm tip so that you can create precise definition and it comes in the same 9 shades as our Arch Brow Sculpting Pencil, which gives every skin tone and brow color something to choose from."
The newest pencil, which is formulated with a long-wearing combination of color and waxes, glides on easily with even the most delicate flicks across skin so you can create fine, natural looking strokes that replicate real hairs (it's like microblading your brows, but without the blade). It can also be used to shade in for more dimension between brow hairs, or applied in conjunction with the rest of the Arch Brow line.
"You can use the original Arch Brow Sculpting Pencil to fill in sparser areas of the brow and create the structure of the arch, then fill in precise hair-strokes with the Micro Pencil using the same color or one shade darker for a multi-dimensional brow that looks real, and natural," Reagan says. "To take it to the next level, you can also layer Arch Brow Volumizing Fiber Gel to build fullness, texture, and volume or just a coat of our Arch Brow Shaping Gel, which is a clear formula that gently holds the hairs in place."
As for the other two launches, Hourglass fans will be pleased to know that the brand has served up four new shades of its bestselling Scattered Light Glitter Eyeshadow, $29 (bringing the selection up to nine shadows), and released an ergonomic eyelash curler that's as stylish as it is effective.
"[The Scattered Light Eyeshadows] have become a runaway hit and we wanted to introduce four new shades that offered a well-rounded assortment of color for every personal style and individual," Regan tells TZR. "Burnish is a can't-go-wrong, pure bronze shade for everyone, Rapture is a gorgeous wearable berry tone, Vivid is a sage green you never knew you needed in your life, and Ray has the most glimmer with neutral tones that suit anyone."
After using your favorite shade of the Scattered Light shadow, grab the Lash Curler, $30, to give your eyes a wide-open look with a soft but lasting curl that lifts every single eyelash. Hourglass designed it with all the attributes of the most effective eyelash curlers out there, plus a sleek, architectural design and ergonomic shape that'll make it your new must-have.
Get your hands on all of Hourglass' latest launches by shopping them below.