Holiday Decor Trends For Every Aesthetic (That Are Designer-Approved)
Anna Hudson for Havenly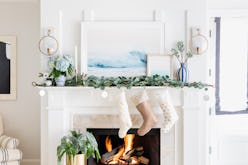 If the thought of stringing your space with multi-colored lights for the holidays makes you cringe, don't side with Scrooge just yet. This time of year may come with its share of clichés but, luckily, the latest holiday decor trends aren't included.
These days, making your home a festive space doesn't mean you have to tread on cheesy territory. In fact, with a few key touches and items, you can keep things aligned with your personal aesthetic — whatever it may be — while also making your home quintessentially merry and bright, not to mention on-trend.
For instance, for those with a glamorous eye and a more-is-more mentality, selentine accents could be a way to go. Or, if you take a minimalist approach to decor, bare garlands might be up your alley. And if a warm and cozy aesthetic is more your speed when it comes to the holiday season, you can easily achieve this look with a few soft and neutral throw blankets or pillows. Any way you sway design-wise, there's a feasible course of action to take for the winter months.
To help you nail down a holiday decor scheme that is decidedly you, ahead, find some key designer-approved ideas that are all kinds of chic and not at all cliché. After all, your home should always emulate your personality — no matter what time of year.
Glamorous & Sleek
Silver and white decor, golden candlelight, and a gratuitous pop of color make for holiday perfection for those with a penchant for all things glamorous.
Edyta Czajkowska, founder and interior designer at EDYTA & CO., says that the glow of candles contributes to ambiance while emphasizing the shine of metallic and glossy accents. "Adding a touch of glam through flickering candles, selenite accents, simple white and silver ornaments, and some accent color [on] wrapping paper and ribbons creates an elegant and tailored aesthetic that I really love," she says.
Another tip from the designer: Create atmospheric charm with clusters of faux candles, which are safer and less messy than real ones.
Simple & Minimalist
Taking a minimalistic approach to decorating certainly has its appeal, especially if you're on a budget or don't have space to store clutter for the rest of the year. Instead, consider going au natural this season by incorporating live plants into your holiday decor.
"Using greenery to decorate is sometimes all you need to make things feel festive," says Gillian Grefé, a design expert at Havenly. "It's affordable, especially when you buy the real stuff."
"Your home can still be festive and beautiful when you decorate with simple greenery such as bare garlands, wreaths and topiaries, and vases of fresh pine, magnolia, or eucalyptus," Czajkowska says. She adds that incorporating a monochromatic color palette is another chic way to design a winter aesthetic.
Cozy & Warm
When the weather outside is frightful, Grefé and Czajkowska suggest turning your home into a welcoming oasis that exudes comfort and warmth. "Holiday is about gatherings and being cozy," Grefé points out. "Create more comfy spaces in your home this year — add candles, extra pillows, and soft blankets. Even if it's a corner in your house, creating more comfortable spaces throughout will make your home feel special."
And the finishing touch? "Put a few holiday florals in a vase by each of these spaces to finalize and create the official nook look," she says.
Czajkowska notes that swapping out a room's accents for seasonal ones can change its entire look in seconds flat. "Switching out your throws and pillows for ones in cozier fabrics and colors for the holiday season is a quick and easy way to make your home more festive," she says.
Modern & Unconventional
Some call it traditional, but decking the halls with shades of red, green, blue, silver, and gold is all part of the cliché. However, Grefé says that regardless of hue, "ornaments, garland, and wrapped gifts will always read 'holiday.'"
There is a trick to keeping things cohesive. "Create themes throughout your house and stick to them," she says. For example, "you could decide on a 'California Cool' holiday mantel on which you're decorating with neutral tones and pops of blues with eucalyptus, then adding your seasonal green touch," Grefé suggests. "Or, [try] a modern black and white entryway with limited color."