Hilary Duff Just Debuted A Retro-Inspired Haircut & You'll Want To Copy Her Immediately
Mike Coppola/Getty Images Entertainment/Getty Images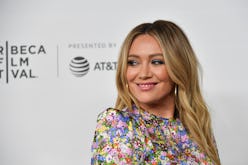 This actor is taking the whole '70s aesthetic seriously. She took to Instagram to document her latest makeover, a brand-new chop that'll make you want to travel back in time a few decades. When you see Hilary Duff's curtain bangs, you'll be dialing the salon.
The days of groovy florals, bohemian bellbottoms, and fringe are in again. The hippie decade has had a major role in inspiring flared silhouettes, bringing back the old-school orange-and-brown color scheme and swirly prints in today's fashion. Between the reemergence of bell sleeves, clogs, crochet, tie-front tops and other signature styles of the '70s, one might actually forget we're no longer living in the Jimmy Carter days.
Nobody is happier about this comeback than Hilary Duff. Not only has she been wearing all of the above, but she just stepped up her retro game with the help of her new curtain bangs.
The actor shared videos of Nine Zero One's celebrity-favorite hairstylist Nikki Lee giving her throwback fringe on her Instagram Story Thurs. After the deed was done, Lee parted them in the middle and curled them slightly away from Duff's face for a full-on Farrah Fawcett look. It's the perfect "'70s summer banger," as the hairstylist captioned her own Instagram post.
Later, Duff got all dressed up in a pretty burgundy floral shirtdress with royal blue over-the-knee boots by Le Silla. She debuted her fresh new bangs at The London in West Hollywood while doing press for her new TV series, Younger.
The actor also posted a photo of the final product on Instagram, saying "mama feeling good." Duff certainly looked as good as she felt and you can, too, with a new set of '70s fringe like hers.
Other fashion girls like Hailey Baldwin, Shailene Woodley, Chloë Grace Moretz, and Julianne Hough are on board with the Brigitte Bardot-inspired look. Even the ultimate trendsetter Gigi Hadid is wearing a version of the throwback hairstyle on cover of the current issue of Vogue Mexico.
It's clear to see that curtain fringe is going to be the summer's it-look, so you'd better book yourself a seat at the salon fast. There's hardly a better way to celebrate the return of warm weather than with a fresh haircut anyway. With your new bangs, those bellbottom jeans, and that groovy floral top you've been waiting to wear, there's no doubt you're going to be a bonafide '70s babe this summer.