Look To These 5 Hollywood Icons For Your Halloween Eye Makeup Inspo
GAB Archive/Redferns/Getty Images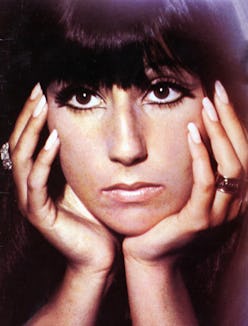 Costumes and candy may very well be the last thing on anyone's mind come Oct. 31 — just 72 hours ahead of a mid-pandemic presidential election — but then again, the concept of dressing up and pretending to be someone else has perhaps never been more appealing. So who will it be? A 1970s Cher, maybe? Grace Jones in the '80s? These beauty icons happen to be the perfect sources of mask-friendly Halloween eye makeup inspiration.
Over the decades, Hollywood has seen its share of memorable eye moments: Cher's exaggerated lashes and colorful eyeshadow; Amy Winehouse's unprecedentedly overstated cat-eye; or David Bowie's famous arctic circles in the 1971 video for "Life On Mars?" Such distinctive looks make choosing a Halloween costume in the era of face coverings relatively easy.
And masterly as these snazzy lids may look, the recent uptick in YouTube tutorial consumption has seemed to equip the average Jane with just enough expertise to pull off a legendary recreation. Here's your excuse to flaunt those quarantine skills: Five Halloween-worthy eye makeup looks to steal from history, ahead.