Hair Accessories Are Having A Moment At The Met Gala
Stephen Lovekin/BEI/Shutterstock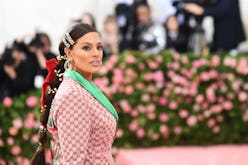 In the midst of the breathless Met Gala coverage on Monday, May 6 — Lady Gaga's four outfits! Frank Ocean's windbreaker! Celine Dion being Celine Dion! — there's one major trend that even a blind person couldn't miss: All of the hair accessories at the Met Gala. Everything from clips to barrettes and bows are in — and in a major way. But if you've paid attention to the fashion and beauty trends for the last couple of seasons, you probably didn't even blink an eye, but the good news is that they're still just as versatile (and camp-y) as ever.
Ashley Graham, clad in Dapper Dan for Gucci, wore a waist-length segmented ponytail studded with so many clips and barrettes from the brand (including a $400 clip that's still available, so hurry!). And Lady Gaga, co-chair for the night, rocked a massive pink bow as a nod to her own fashion history.
Thankfully, the accessories weren't limited to any specific texture... they work for every single hair type. Danai Gurira wore black beads at the end of her braided bangs, and Zazie Beetz's netted veil is the stuff of the sweetest dreams. After all, this is one of the most outrageously elaborate carpets of the year, so attention to detail — every painstaking detail — is pertinent. See the accessories ahead, and shop some of them, too.