Hailey Baldwin Just Wore The Super-Luxe Version Of Your Go-To Teddy Coat
Jamie McCarthy/Getty Images Entertainment/Getty Images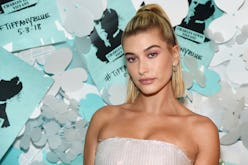 If there's one trend that has absolutely dominated outerwear this season, it's that fluffy sweatshirt-style sherpa that the fashion crowd can't get enough of lately. Now, one model's elevated version has put an all-new twist on the it-jacket. Hailey Baldwin's teddy coat has a way of making this ultra-cozy layer look impossibly chic.
Baldwin and husband Justin Bieber seemed to have had a playful day out in New York on Sun., which included Bieber riding his skateboard to their lunch date on the Upper East Side. Of course, Baldwin opted for her typical monochromatic sweat suit — this time in an olive green.
The model paired her all-green look with a slouchy black beanie, gold hoop earrings by Jennifer Fisher, and white high-tops by Chloe (in true Baldwin style).
The real kicker of the outfit, though, was her coat: a camel-brown sheepskin number by Prada. This fuzzy jacket, hitting below Baldwin's knees, is a luxe take on the super-trendy teddy coat. Rather than the typical zip-up bomber silhouette, this longline piece has structure, with a refined collar, concealed buttons, and a wide belt for extra shape.
The back slit gives it a classic trench look and its sleeves are just perfect for rolling.
Baldwin likes to keep things casual, though, even in a tailored coat. Thus, she left it unbuttoned and let the belt hang at her sides for a more relaxed look. Her outfit is proof that this chic layer can be worn formally or paired with your cozy sweats just the same.
This luxe teddy coat can be adapted to any style, whether you tend to dress low-key and sporty like Baldwin or need a jacket to pair with all your sophisticated office outfits. Copy the model's look with her exact coat or, if you're just not ready to make a $6,000 commitment, check out a few alternatives, ahead.
Shop The Look