Hailey Baldwin Makes A Convincing Case For Oversized Suits
Hagop Kalaidjian/BFA/Shutterstock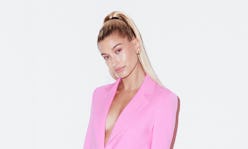 A good suit set is a timeless, work-appropriate wardrobe necessity that will never go out of style. While super-tailored blazers and ankle- cropped skinny trousers have always been a smart office option, a breezier style has made its way into the spotlight. Hailey Baldwin's checked suit proves that the baggy, oversized trend isn't just limited to casual wear after all.
The 22-year-old, who recently became Mrs. Bieber, was photographed leaving a trendy West Hollywood coffee and wine bar on Dec. 7. Known for her love of combining street-style trends with ultra-luxe pieces, Bieber sported an oversized plaid suit set by Japanese brand Irene. The model added a loosely tucked-in black t-shirt under her blazer as well as a chunky pair of velcro-adorned sneakers by Acne Studios.
In order to make the look a touch more feminine, Bieber threw on a few gold necklaces along with a pair of thick gold hoops. A tightly slicked bun has become her signature hair style, allowing her unique bone structure to shine as the center of attention, but this time she fastened it with a blue scrunchie à la 1990.
This sophisticated version of a grunge-inspired look was created with the help of Bieber's stylist, Maeve Reilly. The two have worked together over the past few years to develop a distinct style that effortlessly blends masculine and feminine elements, while pushing boundaries by experimenting with new trends and showcasing emerging designers.
This isn't the first time that Bieber made waves with her groundbreaking style, in fact she's been leaning toward all things baggy and breezy over the past few months. She loves bringing sweatpants into a polished look, whether they're nylon or cotton, paired with a menswear-inspired graphic t-shirt or a midriff-baring sweater.
Although this suit isn't quite as cozy as a pair of sweats, the oversized nature definitely makes for a more comfortable day at the office. Dress up the style with the simple addition of heeled boots, or keep it low-key with a pair of on-trend sneakers. If you're heading straight from work to happy hour, dinner, or even a holiday party, try swapping out the layered t-shirt for a satin tank top, a form-fitting cropped turtleneck, or even a sleek button-down.
Thanks to Bieber's latest look, dressing like a supermodel is a whole lot easier (and more comfortable) than you may have thought. Ready to add an oversized suit to your outfit rotation? Ahead, shop The Zoe Report's favorite Bieber-inspired boxy suit sets to deliver a little variety to your wide selection of suiting.
Shop The Look