Emmy Rossum Just Got A Super-Layered Shag Haircut
Stewart Cook/Variety/Shutterstock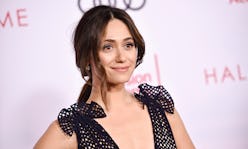 'Tis the season for change and Emmy Rossum just joined the growing list of celebrities who've recently hit the salon seeking out a new look. On Weds., the curly-haired actor debuted a new cut on Instagram and it's the freshest look to kick off a new year with. Emmy Rossum's layered haircut is cute enough to pull anyone out of their winter style rut.
It's amazing what chopping off a couple inches of hair can do. Rossum sparked fans' curiosity when she posted an Instagram story from the salon seat, holding a small swatch of hair. Not long after, she posted another of her shaking out a fabulous, shaggy lob. Perhaps the Shameless actor was getting bored of her look — as many others often do this time of year — when she booked herself into the Arsen Gurgov Salon. Either way, she left with a fresh, layered look that radiates retro vibes.
Rossum has worn her natural curls nonstop lately, even posting a selfie to Instagram captioned with the advice "embrace what nature gave you" days before the makeover. She obviously inherited the voluminous texture from her curly-haired mother, who also turned up on the actor's Instagram a month before.
The 32-year-old's new hair is slightly shorter (just barely brushing her shoulders) and loaded with lots of thick, choppy layers. She debuted it with loose waves that were quite different from the natural curls she was born with (although those are stunning, too). And because it isn't often that Rossum switches up her signature chestnut-brown hair, her latest haircut — although subtle — is kind of a big deal.
It's no secret that the layered lob look is reminiscent of '90s hair trends. You can almost picture Jennifer Aniston's famed Friends character Rachel Green sporting the same shaggy, side-parted look. And what better time to resurrect a throwback shag cut than now, when scrunchies, accordion headbands, and claw clips are in again?
Aside from accessories, you won't believe what other '90s hair trend has been gaining popularity at the salon lately: The "new wave" perm (yes, perm) can make a convert out of anyone. Unlike the ones that were popular two decades ago, however, this perm is meant to give you more relaxed waves (hence the name "new wave") and it's all the rage in Los Angeles right now, Refinery29 says. Celebrities like Olivia Munn and Emma Stone have already tried the trend.
Rossum's new look is the perfect balance between modern and retro, though. She took an old-school hairstyle and made it new again. Now, she's ready to step into 2019 feeling a tad lighter and more stylish at the same time. You can kick off the new year with a fresh cut, too, by copying the actor's perfectly shaggy, layered look. You certainly wouldn't be the only one — Emma Roberts, Ariana Grande, and Emma Stone have all debuted new haircuts this season, too.
If you do decide to make the chop, you'll need the right lineup of products to care for your new look. Ahead, The Zoe Report's favorite formulas on the market right now to maintain your Rossum-inspired cut.