4 Reasons Russia Fashion Week Should *Definitely* Be On Your Radar
Mercedes-Benz Fashion Week Russia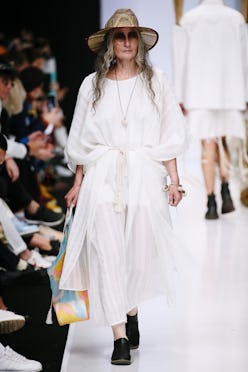 There's more to Russia Fashion Week than furs, vodka, and style savvy Millennials à la Gosha Rubchinskiy. (In fact, this season, coats weren't even necessary — fur or faux — as temperatures reached a record-breaking high for Moscow's fall season.) Though the Russian capital may not be top of mind when it comes to thinking about international fashion destinations, it's certainly an emerging hub of style and substance. The week brings together global talent and international influencers, all there for a look at what sets Russian fashion apart. Traditional brands tend to cater to the needs of their high-profile clientele while young, emerging Russian fasion designers test industry and cultural standards.
This season, the week wasn't short on out-of-the-box moments that delivered dinner-table-worthy discussions — including a cheshire-like cat on the catwalk (oh, the irony). But as Moscow continues to blossom into its style, there are a few designers to keep an eye on no matter where you're based. From special occasion dressing to high-tech fashion serving those with physical disabilities, Mercedes-Benz Fashion Week Russia delivered an array of unique sartorial moments. Read on for four noteworthy runways, all the way from (not so snowy) Moscow.
The One to Know
The Georgian-born designer found his footing in fashion during his studies in Moscow. His inspiration hails from his native traditions and cultural values blended with Moscow's cosmopolitan personality. Not one to discount color or decorative patterns, Arutyunov's latest collection promises delights of sunny hues interrupted by sky blue shades. This season, the show took place at Moscow's Gostiny Dvor, an exhibition space and newly opened fashion museum. With oversized blazers, fresco-inspired graphic knits, and tailored denim onesies, the collection created a buzz in Moscow with its sophisticated proportions and bold fabrications. The looks were topped off with an abundance of accessories and sharply square-toed shoes. Each piece is standalone, ageless and effortlessly transitional.
The Glam Girls Go-To
This Central Saint Martins alum knows how to deliver femininity and fancifulness in an ultra sophisticated style. The Ukrainian-born designer is business-savvy and clientele centric, known for her dresses that are glamorous yet wearable. She draws inspiration from her globe-trotting habits and artistic heritage: Her muse for her latest collection is an elegant Saint-Tropez sojourner — one of maximal style and bohemian spirit. Picture flowy silks, sheer textures, and iridescent sequins floating down the runway. She gives cocktail-hour a modern update with unexpected pairings like sleek bike shorts under layers of delicate tulle. Not to mention, her Bermuda-shorts suit and mini dresses can easily take you from day to night.
The One on the Rise
Blending eastern and western influences with an avant-garde twist is Roma Uvarov's main provocative. The young designer has a clear fascination for deviance as well as a wide-framed cultural perspective — and he knows how to put on quite the show, with a casting that included a diverse range of ages, genders, and ethnicities. Among the highlights were shell-adorned jackets and dresses, as well as a nautical take on the fringe trend.
The One with a Mission
I-inclusive by Ksenia Bezuglova
Ksenia Bezuglova, a disabilities activist and former winner of Miss World 2013, spearheaded a project with a handful of young talent for a multi-designer show of "inclusive and usable wear" for (and modeled by) people with special needs. The designers presented their futuristic concepts developed in collaboration with tech-savvy research centers in Russia. The mission was clear: to introduce trend-driven and technologically advanced fashion that serves those with disabilities. Among the techy touch points were fashionably decorated prostheses, smart walking sticks for the blind and deaf, as well as cyber vision implants which can partially restore sight to the blind. I-Inclusive by Ksenia Bezuglova was an emotional catwalk feat, first of its kind, a supercharged force of fashion.