Everything You Need To Know From Gucci's 2020 Cruise Show In Rome
Courtesy Gucci/Dan Lecca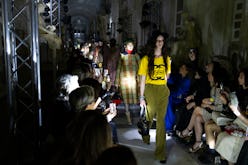 Cruise collections are meant to inspire — to transport you to remote locales, and whisk you off into your imagination. No one achieves this escapism quite like Alessandro Michele, Gucci's creative director. Michele is known for his ability to bring together dissonant ideas — merging '70s swag with the elegance of the Victorian era. But, for Gucci's Cruise 2020 show, the designer found a new route, taking on the ideas of freedom and gender equality as part of the show's message. His infatuation with the '70s takes on new meaning — a reminder of the political and social movements of the time.
On the runway, Michele found a number of overt ways to display exactly what he had on his mind during the making of the collection. Shirts were emblazoned with slogans of "My Body My Choice," and a dress was embroidered with an image of ovaries. "Nobody should have the right to decide about freedom of choice of any human being," Michele told WWD. "No law should say to any person what to do or what not to do when it comes to very personal choices. Generally speaking I am not really into rules, I understand the need of some of them but I prefer chaos."
Also prominently displayed throughout the collection were tie-ins to CHIME FOR CHANGE, a global campaign founded by Gucci in 2013 to help champion gender equality. One look appeared on the runway with the date May 5, 1978 written across the front — a nod to the day that abortion was legalized in Italy. "This jacket is created from @alessandro_michele's continuing vision of freedom, equality and self-expression," the brand notes via Instagram. "@gucci has a longstanding commitment to women and girls by funding projects around the world to support sexual and reproductive rights, maternal health, and the freedom of individual choice. Because none of us can move forward if half of us are held back."
Models wound their way around Rome's Musei Capitolini in a range of pieces, from tights and a bra covered by a cape, to a full nun's ensemble, complete with habit. The looks all played with the notion of dress and undress, of each individual's freedom of choice — in what they wear and otherwise. Similarly, as the show offered both men's and women's collections, the clothing throughout felt universally wearable — suiting, floor-skimming skirts, earrings, and cross-body bags alike. As proven by the brand's muses — Harry Styles, Jared Leto, and Florence Welch to name a few — fashion is universal, and entirely individual.
In addition to the certain contextual mash-ups that comes with Gucci's shows, there is always a hint at what the next sell-out Gucci piece will be. This has become a calling card of Michele, his ability to lift one piece to a level of sartorial stardom. In years past it was the logo tee, the loafer, the double-G belt, and of course both the Marmont and Dionysus bags. For the start of 2020, it is the introduction of scrunch-top boots and vintage logo bags that will certainly propel the next season of shoppers.