Chanel's 2020 Cruise Collection Includes Instagram-Worthy Logo Leggings
Courtesy of Chanel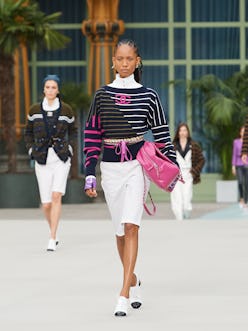 Under Karl Lagerfeld, Chanel's runway shows were known not only for their luscious tweeds and signature logo bags, but also for their extravagant sets. After Lagerfeld's death this past February, Virginie Viard, who spent 30 years at Karl's side, stepped into the lead role at the lauded fashion house. With her first collection, Viard stayed true to much of Lagerfeld's vision, but Chanel's 2020 Cruise collection also felt decidedly different. The setting, though still as imaginative as many of Lagerfeld's grand designs, had a pared down, minimal feel. The Grand Palais was transformed into a train station, but one that felt austere. In the show notes, the brand invites guests on a journey, noting "the theme of a silhouette in motion, both strong and bursting with subtle delicateness." In other words, Chanel is moving forward.
The collection was one that subtly introduced a thoughtful and often delicate practicality into a season which can often feel a bit over-the-top (cruise collections' far-flung locales and decadent vacation looks aren't often relatable to the shopper). "Comfort and functionality, a rightful simplicity and obvious elegance to come and go in, to travel in, to live in and to be oneself without hindrance," the notes read.
Chanel's signature mixing of masculine and feminine can be seen throughout the collection, and a number of crisp white shirts are reminiscent of Lagerfeld's own personal uniform. And the houses' signature tweeds appear in a wide range of styles: collared and not, adorned with pockets, and in a range of bright hues.
The season's bags, from packs at the hip, to larger toes, all tie in to the travel-friendly theme of the season, "transportation in complete liberty," as explained by the brand. Iterations appeared on the runway in denim, and leather with pops of bold color throughout.
As for footwear, this season the collection was entirely sneaker-free. Models wore slim-fit booties, tweed ballerina flats, or heels, both pointed and in a lace-up two-tone. The silhouettes were elegantly simple; likely comfortable, but not overtly so.
Though the collection offered a clear vision forward for the brand, there were historic references throughout, strong '80s-inspired shoulders, and in a more surprising move, a number of logo-embellished leggings, a direction that felt both fresh but also a natural progression of the brand DNA. Triangular scarves on the head styled with tailored jackets felt like a nod to the era of Jackie Onassis.
The collection ended with a series of vacation-worthy dresses, in both loose and fitted silhouettes. The evening wear is both romantic and lighthearted, and the brand goes on to describe the ruffled designs as "ready to lift on a breeze when descending from the train." A joyful and vision indeed.
Though the brand's Haute Couture collection in June and Spring/Summer 2020 collection this coming September, will all the likely be much grander affairs, Viard's 79-piece collection is a welcome introduction into what her legacy will be as the artistic director. It's a collection that feels plugged into the long DNA of the brand, but is also all her own.