Glow Recipe Just Dropped Some Major News — & It Means All These K-Beauty Products Are Now Super On Sale
Glow Recipe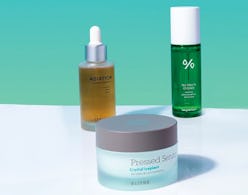 There are many reasons for a brand to host a big sale. Maybe it's a major holiday weekend, or perhaps the store needs to clear some space for fresh inventory ahead of a new season. But Glow Recipe's K-beauty sale is happening for a totally different reason altogether. The brand will soon be shifting its strategy to sell only its very own skincare products — which means everything else it currently sells is on major markdown. If you're a K-beauty fan, this one's a sale you won't want to miss.
Cult-loved skin care retailer Glow Recipe first came up in the industry as a popular destination for the freshest beauty trends and buys direct from Korea, one of the world's skin care capitals. The brand has since expanded and applied its expertise to its own eponymous line of products — which have quickly become favorites among beauty buffs everywhere. Now, Glow Recipe has decided to dedicate its business to said skin care range, foregoing its online marketplace that features other brands.
"Since launching glowrecipe.com in 2014, we've seen constant growth year over year and have built a strong loyal following through our curation and education. Although our e-commerce business is quite strong, the Glow Recipe Skincare business was hitting a momentum where we knew we had to make a decision: continue with both business verticals, or invest the entire company's energy into Glow Recipe Skincare," co-founders Sarah Lee and Christine Chang tell The Zoe Report in an email. "After much thoughtful deliberation, we decided to go all in with Glow Recipe Skincare and continue creating products that we know our customers will love."
That's really good news for you, because it means that from June 10 to June 30, Glow Recipe is holding a major sale on all their K-Beauty brand partners' products to celebrate no only their supportive customer base (that's you!) but also the site's success and history. Discounts start at 20 percent off and are as steep as 60 percent off, and it's your last chance to score some of the top-rated K-beauty items the brand initially became so famous for offering. So, act fast.
Take the opportunity to score Blithe's Tundra Chaga Pressed Serum for 20 percent off, down to $39.20 per jar. Its got an almost perfect five-star rating and over 460 reviews praising it for its deep hydration and brightness-boosting powers. Stock up on sheet masks like Common Labs' Ggultamin C Real Jel Mask, down 60 percent to $1.60 per mask, so you can get brighter, glowier skin wherever you are. And make your morning routine easier than ever with Harumada's Triple Balance Morning Cleansing Pads, down to $11.50 thanks to a 50-percent discount.
And while this certainly presents a prime chance to snag some K-beauty favorites for less, it doesn't necessarily mean you won't ever see them again — you'll just have to look for the products as places other than Glow Recipe.
"We're so proud of the brands we've incubated over the years, and the fact that we helped them establish a presence in the US market. They now have the tools and foundation to succeed in the US with a built-in following," says Lee and Chang.
Keep scrolling to scoop up some of the seriously-discounted skin care favorites from Glow Recipe's soon-to-be-changing marketplace, below.