Givenchy's Newest Handbag Was Inspired By Haute Couture — & It's Equally As Luxe
Courtesy of Givenchy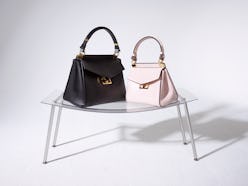 When it comes to accessories, it's nice to have pieces that are as pretty as they are practical. A handbag, however gorgeous, is a whole lot less helpful if it can't manage to haul your absolute essentials from place to place. Thankfully, many of the latest bags from luxe labels find their place solidly in the middle of where high fashion meets high function — and the haute couture-inspired Givenchy Mystic Handbag is proof. Here's why it's the luxury bag you should invest in this season.
When Givenchy unveiled its Pre-Fall 2019 collection in February, the famous French brand also introduced a soon-to-be iconic new handbag silhouette: The Mystic bag. But it isn't just another standard top-handle tote. In fact, the fresh launch found inspiration for its sophisticated silhouette in Givenchy Artistic Director Clare Waight Keller's haute couture designs — so as you can imagine, this new purse is just as luxe as the high-fashion garments it gives homage to.
The just-launched style, now available to shop in Givenchy stores and on the brand's website, combines the two hallmark qualities of Waight Keller's couture. Namely, the Mystic bag manages to be both soft and sophisticated at once, with a defined, elegant structure that coexists with decidedly feminine details and deliciously buttery leather. The sculptural shoulders and sleek V top flap herald Givenchy's classic couture features, while the unfussy, discreet details (like the half-hidden telltale double-G clasp closure) show off the brand's refinement and restraint. It's a bag that's bold in its simplicity.
And the Mystic bag won't just be celebrated for its chic couture-inspired appearance — it also happens to be an incredibly practical choice for a luxury purse. The elegant silhouette, available in a medium and a small size, comes with a detachable adjustable strap and is large enough to hold all your must-haves day or night, thanks to its roomy contrasting suede interior.
The Medium Mystic bag, $3,790, could easily accommodate a tablet or small laptop along with the rest of your office essentials, while the slightly daintier Small Mystic bag, $2,990, would seamlessly transition from errands around town to a night out. Both bring a level of sophistication to any ensemble; carry with suiting separates, or pair with a cheeky graphic tee and on-trend shorts.
And Givenchy is giving you options when it comes to color. The Mystic bag is available in a grand total of seven different shades, from classic black or natural leather, to a modern graphite gray, to an unexpected shade of pale yellow. The timeless, elegant nature of the bag means you can't go wrong with any of the high-style hues.
Keep scrolling to discover the sophisticated new handbag from Givenchy, and seriously consider adding it to your wish list for the season — it's a worthy investment because it'll last you for years to come.