Girlfriend Collective Launched An Unexpected New Activewear Collection & It's Definitely Going To Sell Out
Girlfriend Collective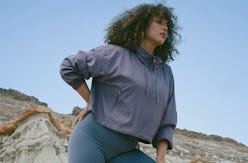 If someone asked you to describe your summer schedule in three words and your answer back is "on the go," you're definitely not alone. It's one of the busiest seasons for many people, with tons of trips, parties, and events on the itinerary — on top of all your regularly-scheduled activities, of course. With a loaded-up calendar like that, you need a wardrobe that performs no matter what each day throws your way. Girlfriend Collective's new On-The-Go collection provides just that, with three essential pieces that'll upgrade your activewear collection right when you need it the most.
With a summer schedule that has you sprinting from one engagement to the next, you won't always have the time to put together a polished, well-thought out ensemble. In these moments, today's uber-stylish activewear lines really come in handy by serving up sleek mix-and-match separates that have you looking good in a flash (whether you're actually headed to the gym or just out for a day of running errands).
Girlfriend Collective is one such line — but it's also way more than just a cult-loved go-to for chic workout wear. The brand is committed to reducing wastefulness in the fashion industry, and utilizes recycled materials made from plastics (like single-use water bottles and fishing nets) for all its products, including its brand-new GF OTG line that's now available for preorder.
The newly released GF OTG line is a collection of 100% recycled, water resistant essentials designed to help you get on to more important things. Each of the three new pieces are made for throwing on and getting out the door in a flash, so you look good without having to think about it — and you'll feel good too since they're made from one-use water bottles that would've otherwise ended up in a land fill.
Choose from two different jacket silhouettes and a super sporty short, all of which come in five different color ways that are incredibly cool (and easy to pair with your existing athleisure wardrobe). The Peregrine Windbreaker, $128, presents a classic zip-up style, complete with a fold-away hood, cinchable waist, and loose fit. Snag it in a neutral shade, like Midnight or Cocoa, and keep it in your car or tote to slip into whenever you need an extra layer. And for the ultimate post-gym jacket, look no further than the Hummingbird Half Zip Windbreaker, $118. It's cropped and modern and will look great with all your spin class leggings — throw it on after your cool-down and head straight to brunch.
With temperatures starting to soar, shorts are often the way to go. The GF OTG's Gazelle Shorts, $55, are the answer, providing a high waist, loose fit, pockets, and a water-resistant fabric that can handle anything. Snag them in a summer-ready color like the bright coral-y Clay shade or dusky purple Dahlia, and pair them with an easy tank and boldly hued sneakers. Doesn't get much easier than that, right?
These sleek styles surely won't last long, so get a head start on shopping them now while you still can. You'll be happy you did once your busy summer schedule really starts booming.