8 Size-Inclusive Activewear Brands Making The Leggings You Actually Want To Wear
Courtesy of Girlfriend Collective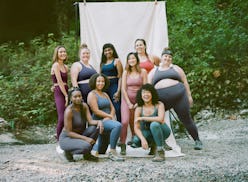 Activewear is a category with a lot of…flexibility. From bright colors to bold cutouts and copious amounts of prints, you can sport a color-blocked bra-and-legging set for boxing one day and be clad in a muted leotard and wrap sweater for barre class the next. But even if you refuse to waiver from head-to-toe black for every workout, there's an all-too-common hang up with gym attire: Few "fashionable" or "trendy" labels accommodate sizes 14 and above. While many workout fabrics come with a certain litheness to them, stretch does not equate to a proper fit for plus-size bodies — strong muscles and curves require a different kind of support, especially for vigorous sweat sessions. But things are changing. Overall, the fashion industry is shifting with more of an omnipresent focus on representation and diversity than ever before, sparking a range of size-inclusive activewear brands that are catering to women of all shapes, sizes, and athletic abilities from matching sets to specially engineered fits.
"There is a very outdated misperception that bigger women don't work out. That is absolutely not the case," says Alexandra Waldman, co-founder and creative director of Universal Standard who notes that activewear is just one way in which the plus-size market has been underserved. "We take working out as seriously as all top activewear brands from fabrication, to fit, to appearance, to the feeling of a liberated body equipped to handle any challenge. Gone are the days of offering women any old stretchy thing."
Emma Grede, chief operating officer and co-founder of Good American says, "a majority of activewear on the market is made with one body type in mind." To help change this, the brand's Performance collection is designed by women who concentrate on varied female forms. "The fabrics we incorporate into our [activewear] feature a variety of properties you'd want in your workout gear — four-way stretch, compression, UV protection, and moisture wicking fabrics — to give women the confidence and motivation to look and feel their best."
Proof that you don't need to a be a size two, four, or six to fit into trend-driven activewear any more than you need to be able to run a marathon, squat 200 pounds, or balance in a perfect scorpion pose (though if you can do any of these things, consider everyone around you insanely impressed), size-inclusive activewear brands are working towards creating more options for different body types so that appropriately sized leggings in cute colors, mix-and-match sports bras that actually function, and cool crop tops are at their disposal to achieve all types of fitness goals.
"We've offered plus-size products for the past decade, but the range was not broad enough to cover all consumers," says Jenna Golden, Nike's communications director for North America. "I think that as we and other companies continue to listen to the voice of the athlete, you will continue to see a buildout of the extended sizes to deliver the right fit which is critical to creating complete comfort and reliability to enable women of all shapes and sizes to perform at their best."
Rachel Halliburton, senior vice president of marketing for Beyond Yoga adds, "social media has changed how consumers interact with brands. For the first time in history, we as consumers have the voice to guide and direct how brands create and represent product — this is revolutionary and empowering. If you feel passionate about how a brand should represent women, speak up with your voice and your purchase power!"
Ahead, eight activewear brands with all bodies in mind. No matter your size, you can feel like a #fitnessqueen.
Girlfriend Collective
Ethical and slow fashion brand, Girlfriend Collective has quickly become a cult favorite thanks to sleek design and an innovative production process where every garment is created out of recycled materials. "It's always been our long-term mission to make sustainable activewear accessible for as many people as possible," says co-founder, Ellie Dinh. "We believe health and wellness come in many shapes, sizes, and forms, and we want to celebrate that." Launching with a range of minimal sports bras and leggings, the brand has new silhouettes like trendy unitards, bike shorts, and maternity leggings available for pre-order in a range of sizes from XS to 6XL. "We're excited to have a new size range that more accurately represents the full spectrum of our amazing community," says Dinh.
Size Range: XXS – 6XL
Universal Standard
Universal Standard set out to create elevated essentials from tees to outerwear and yes, activewear, specifically engineering fits to suit real bodies (i.e. no fit models). "[Our specialty-fit] pieces protect and liberate the body for a full range of movement and exercise," says Waldman. "We pay extra attention to each piece staying where it's meant to be, so [there is] no sliding up or curling down. We want every woman in every body to be taken seriously as an athlete." Currently, the brand's activewear offerings — which include sweat-wicking and antimicrobial leggings, color-block tanks, and bold bodysuits — are available in sizes 6 to 32, but Waldman says they're in the process of converting every piece into a full size range from 00 to 40. "By May this year, we should have everything we make available in that size range."
Size Range: 6/8 (2XS) – 30/32 (2XL)
Superfit Hero
Superfit Hero is a line of ethically produced sports bras, leggings, and shorts made in Los Angeles, CA that promotes body positive fitness over diet culture. Boasting confidence-boosting "Superfits" to suit every sport and size, the brand's signature leggings are tested and approved by athletes that range from sizes XS to 5XL and are backed by an uplifting community to help you through your fitness goals. You can even register for fitness groups and training sessions on the brand's site, here. Now that's inclusive.
Size Range: XS (0 to 2) – 5XL (32 to 34)
Nike
Always at the forefront of activewear, Nike has offered extended sizes across running, training, and sportswear categories for over a decade in limited styles and colors, but this spring marks a bigger moment for the brand where it will be celebrating and advocating for athletes of all sizes. "Since Holiday 2016, we unveiled a robust range of sizes for women in more colors and styles than ever before," says Golden, who notes new style-led pieces like metallic and animal-printed tights and fleece crewnecks for 2019. "[We] recognize that women are stronger, bolder, and more outspoken than ever. The days where we have to add 'female' before 'athlete' are over…and having helped fuel this cultural shift, we celebrate these athletes' diversity, from ethnicity to body shape."
Size Range: XS (0 to 2) – XL (16 to 18)
Beyond Yoga
In 2018, luxury athleisure brand, Beyond Yoga added extended sizes to an already robust collection of tanks, tees, leggings, shorts, sweatshirts, jackets, and more. "Our approach to inclusivity is simple: be authentic," says Halliburton, who explains how the company uses customer insights to inform new product launches and category expansions. "Being slightly slower with our releases allows us to learn more about the market, what works and what does not, and also perfect the product. This summer there will be an explosion of color in our extended sizes, this is based on feedback collected from social media, we are really excited about it!" Fit testing every garment on real women, including the brand's staff, Beyond Yoga has plans to further expand their offerings, with current sizing going up to a 3X.
Size Range: XXS (0 to 2) – 3X (26 to 28)
Good American
Size inclusivity has been at the core of Good American's DNA since the brand's launch in October 2016 — a theme that has continued with the launch of activewear in August of 2018. Delivering on technically made, trend-driven styles from sporty color blocking to modern mesh detailing and punchy leopard motifs, the collection ranges from zip-up sports bras to cropped tanks and printed leggings. "When it comes to activewear, it's not only about looking your best, it's also super important for the pieces to perform as well," says Grede of the label's four-way stretch, compression, UV protection, and moisture wicking fabrics. Newly available for 2019: yet another workout onesie…is it too early to call this as the biggest activewear trend for 2019?
Size Range: XS (00/0) – 4XL (26)
Year Of Ours
Chances are you've spotted Year Of Ours' signature Football Leggings on your favorite #fitfluencers and fitness instructors, but did you know the female-led label offers them in extended sizes, too? "We're proactive in our change and often take a step back from production to evaluate the needs of #TeamYOS to better outfit our diverse crew of varying shapes, sizes, backgrounds, and beliefs," the brand's website states. "Since our inception, we've rolled out extended sizing that ranges from XXS to 2X and introduced brand new cuts, color palettes, and fabric formulas intended to fit an even wider range of lifestyles." Also available in extended sizes: Cut-out bras, neon bike shorts and leggings, varsity-style sweatshirts, and ribbed sets.
Size Range: XS – 2XL
Knix
While Knix is technically an intimates brand, the Toronto-based label offers wire-free sports bras in an impressive range of sizes, built to withstand hardcore workouts. "It's hard to make a supportive bra for women with E, F, and G cups and so I think a lot of brands just avoided the challenge," says founder and chief operating office, Joanna Griffiths. "To have a sports bra you can run a marathon in or to be able to go underwire free and still feel supported in is a huge win for busty women." With performance-molded cups to drastically reduce movement — aka bounce back — both a medium-impact pull-on racerback and high-impact silhouette with an ergonomic clasp feature moisture-wicking, quick dry, anti-odor, leak resistant, four-way stretch fabric with Tri-Flo ventilation. Holy innovation.
Size Range: 32A – 42G