Gigi Hadid's Secret Instagram Account Is A Trove Of Fashion Month Highlights
Shutterstock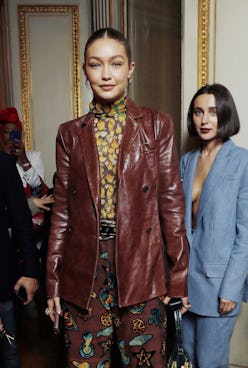 You already follow Gigi Hadid's day-to-day Instagram feed and keep up with her stories, but there's a hidden gem on social media that you might not be privy to. Do you know that the model has a full fledged supermodel mood board with major style inspo to boot? Gigi Hadid's secret Instagram account (which is solely comprised of disposable film photos and so, aptly named Gi'sposable) gives you a small glimpse into the lives of her stylish posse along with a first-hand look at some of the industry's most prominent happenings.
While Fashion Month has now come and gone, Hadid is finally sharing a flood of snaps to the account, all captured during her adventures around the globe. After hinting that the film was being developed just weeks prior, Hadid is now ready to reminisce on the Spring/Summer 2020 season — including what turned out to be some of the most memorable moments of the entire fashion month. Most notably, included is the most talked about look (possibly of all time) — Jennifer Lopez's iconic Versace dress. Post-runway, Hadid captured a handful of candid shots at the brand's afterparty in Milan, where J.Lo sported a much shorter version of the epic jungle dress, paired with the matching knee-high boots. The moment in question showed J.Lo dancing with the Italian house's creative director and longtime friend Donatella Versace.
Other snaps from the month-long festivities featured a behind-the-scenes look from the shows in Paris, New York, and beyond with a few recognizable faces, too. Included: British Vogue Editor-in-Chief Edward Enninful out in Milan, as well as models Kaia Gerber and Vittoria Ceretti looking chic as ever during a walk through before the highly anticipated Chanel show at the Grand Palais in Paris. There's even a shot of Kendall Jenner as a blonde — a moment so fleeting that you might have missed it.
Scrolling through the latest posts, you'll see that these sightings are far from rare, as the page is riddled with fellow models and other front-row fixtures living it up (like Cara Delevingne and Irina Shayk), following several runway appearances, in city after city. Though very few of the most recent posts feature Gigi herself, you don't have to scroll far without spotting her sister Bella on the grid. One in particular shows the youngest Hadid sister sporting those neutral-colored checkered leggings by Charlotte Knowles — the London-based brand that the style-set is flocking to this season.
This sudden burst in fashion film is just the latest in a series of ongoing posts from Gigi, who launched the secondary account last summer. Ever since, she's been consistently documenting everything that goes on in her world from behind the lens. From family photos with her horses, to quick shots of famous friends like Miguel or Rihanna at after-hour events, it's safe to say that you can continue to expect a new influx of snapshots with each major milestone to come. And if you're looking to snag a few grainy shots (with an undeniably '90s feel) to pin to your mood-board this season, then it's most definitely worth the follow.