The French Perfume Model Georgia Fowler Always Wears
Bryn Lennon/Getty Images Entertainment/Getty Images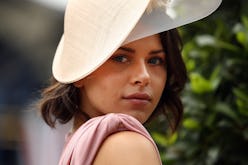 Most people know what desire feels like... I mean, just take a look at Net-a-Porter's newest arrivals. Now imagine how it feels to be just as wanted as that pair of suede Alaïa booties. Model Georgia Fowler knows a thing — or, like, 12 — about the feeling.: She's a three-time Victoria's Secret Fashion Show model, and has walked in shows for Chanel and Yeezy, among many, many more. But now, the New Zealand native, 27, is the face of Azzaro's Wanted Girl perfume. And naturally, Georgia Fowler's beauty secrets include a few spritzes of the sweet floral scent.
"It's a fun, flirty, sexy and confident fragrance," Fowler tells me at a New York City launch event in late July. "It's a real honor to be the face of the brand because that's how I want to be — a little competitive and strong, but not taking life too seriously and throwing yourself out there."
The New Zealand native says that Wanted Girl is a bit more versatile than other perfumes she's worn in the past. "It kinda changes once it's on the skin," she says. "It settles in nicely and it's suitable for every kind of perfume wearer. There's a bit of floral in the beginning, a little oriental, and a hint of dulce de leche." Although she finds herself wearing the scent everywhere, Fowler loves applying it before a fun night out in New York City, where she currently resides.
With her hectic model schedule, Fowler spends a lot of time in a makeup chair, so it's no surprise she's a pro when it comes to finding the best products the beauty industry has to offer. Below, see everything she uses to achieve her signature dewy look.
Skincare
"I try to keep it really natural, but with the amount of makeup that comes on and off my face, I really try to use as much moisturizer as I can," Fowler tells TZR. Under moisturizer, the model reaches for Clarin's Double Serum with turmeric, oat, and avocado. Then she'll apply eye cream like La Mer's Eye Concentrate to fight dark circles.
Treatment wise, the Angel likes to indulge in facials regularly. "For facials, I always want moisturizer, good exfoliation, and a face massage," Fowler explains. She also loves face peels, opting for fruit enzyme over harsher chemical ones. While she's jetting from country to country, she'll throw on an in-flight face mask with moisturizing benefits, specifically the SK-II Facial Treatment Mask.
Makeup
"I think everyone tends to look best with the less-is-more approach, unless you're really going out there to have fun," Fowler says. "But usually, I like to keep it minimal." To that note, the model, who prefers earthy brown tones, is a huge fan of multi-use balms and pigments. "I love products that can go everywhere and have a dewy type of consistency. Not too matte or powdery," she says. To achieve a monochromatic glow, the model will use a stick blush for her cheeks, eyes, and lips like Charlotte Tilbury's Beach Lip & Cheek Stick. She's also a fan of the glossy lid look, courtesy of Jillian Dempsey's Lid Tint Satin Eye Shadow.
And there's one category that she deems crucial, no matter if she's going for soft or full glam: brows. "I fill them in a little and just brush them up with either Benefit's Gimme Brow + Volumizing Eyebrow Gel or Glossier's Boy Brow," Fowler says. For the lips, Fowler sticks to a hydrating formula like Sisley Confort Extreme Lip Balm. Lastly, she'll add a touch of concealer only where she needs it.
Shop Azzaro Wanted Girl