Gap's Bringing Back Some Iconic Denim Styles For Fall & It's A Throwback You'll Want To Wear All Season
Courtesy of Gap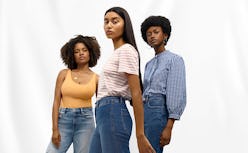 While it may be hard to believe, Gap turns 50 this year. Founded during the exciting year of 1969 — the same year the Apollo 11 crew landed on the Moon — the denim and clothing brand became known as a leader in fashion for its progressive and inclusive approach. With pieces meant to serve as the foundation to the modern wardrobe, the Gap label became a fixture in American closets everywhere. Now, for Gap's fall 2019 campaign, the brand is revisiting its heritage — featuring pieces you'll want to wear all season (and probably well beyond, too).
Entering a new era in its 50th year, Gap celebrates its ethos of inclusivity with its latest campaign, "It's Our Denim Now." The accompanying imagery to the brand's hero campaign film showcases a range of Gap's denim styles, like the $64 High Rise Cigarette. The campaign also shows pieces from Gap's upcoming fall collections, including the Denim through Decades capsule.
As a nod to Gap's history, the limited-edition Denim through Decades collection is set to launch on Aug. 20 and consists of iconic styles from the '70s, '80s, and '90s, which are each updated with new details for 2019. In addition to these chic throwback styles, Gap will also be releasing elevated, modern clothing and denim as part of its 1969 Premium collection.
"It's Our Denim Now" features photography shot by Tyler Mitchell, who made history as the first black photographer to shoot a Vogue cover in 2018, and a short film directed by Fleur Fortuné. In both parts of the campaign, you'll find classic high-rise styles, wide-leg jeans, denim shirts, and more.
"With 'It's Our Denim Now' being my first major campaign, we wanted to make an impactful statement visually and celebrate Gap's heritage as a denim leader while cementing its future as a brand for all generations," said the brand's senior vice president and chief marketing officer Alegra O'Hare in a statement.
The campaign for Gap's fall collections marks the beginning of a new era for the brand. By returning to its roots and reintroducing popular denim styles from its past, the clothing label champions the ideas and styles that have driven it to become Gap as it is known today.