If You're A Fan Of Function Of Beauty's Custom Haircare Products, Its Latest Launches Won't Disappoint
Courtesy of Function of Beauty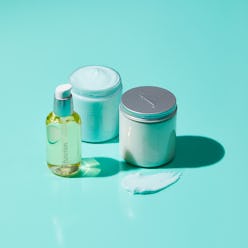 There's something about Function of Beauty that just feels personal — and that's because it is. The totally customizable haircare brand lets customers create products based on hair type, goals, and scent and aesthetic preferences (which even includes the color of the product itself) by taking a short quiz on the brand's site. That customizability extends to each product — and yes, that also includes the brand's latest launches: Function of Beauty's new Hair Mask and Hair Serum, which hit its site on Oct. 8.
Unsurprisingly, the newest additions to the brand's lineup have been a long time coming. "We've been considering these products since day one, and countless customers have asked us about them!" Function of Beauty's co-founder and CEO Zahir Dossa tells The Zoe Report in an email. "As a relatively new brand (4.5 years old), we felt it was important to nail our core products (custom shampoo + custom conditioner) and build up our manufacturing capabilities to customize at scale, before moving into additional product expansions."
Luckily for its fans, Function of Beauty has made it to that point. "Now that we have over 26,000 5-star reviews and bottles coming off the line every 8 seconds in our factory in Catawissa, Pennsylvania (our co-founder Josh's hometown!), we felt we were (finally) ready for the next step in shelfie domination," says Dossa.
And the new products — both $19 — live up to their claims (which, of course, are slightly different for everyone). As Dossa explains, many of the brand's customers have struggled to find masks and serums for hair that actually work for their specific hair type while remaining true to their values (i.e. are vegan and cruelty free, and don't contain ingredients like parabens or sulfates). I found myself facing the same problem, which is why I was pleasantly surprised when I tried the products myself.
Though I don't see much in the way of results when I normally use hair masks, Function of Beauty's made my hair noticeably softer, and it felt decidedly less straw-like when I dried it after my shower (no doubt thanks to key ingredients like argan oil and jojoba ester oil). And although I'm typically left with unpleasant residue after I use heavier products like this, the brand's new Hair Mask didn't leave anything of the sort; it came out completely, simply leaving my hair happier (and probably healthier, too).
The Hair Serum was just the icing on the cake. The product was made to give users the "glass-hair effect" using ingredients like sunflower oil and jojoba oil — and it delivered. A couple of drops smoothed into my strands while still damp made them *way* shinier than normal, which is quite a feat for my usually dull locks.
Ready to try the latest launches? Keep scrolling for both new products, and head over to the brand's site to customize them for yourself.