This Insta-Famous Hair Care Brand Just Expanded Its Lineup For The First Time
Function of Beauty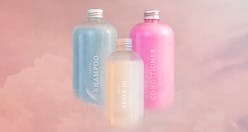 Technically, before March 5 and the release of Function of Beauty's Leave-In Treatment, the hair care brand only had two products: shampoo and conditioner. Definitely not a bad first two to start with — but seemingly a bit small for a brand with close to 200,000 Instagram followers, and a cult following across the internet. So, how did Function of Beauty win over the world with just two products? It's simple. The shampoo and conditioner are 100 percent customizable to your unique hair goals and type, with hundreds (if not thousands) of unique variations. Hey, how else do you please basically everyone with just two products, and earn over 14,000 perfect 5-star reviews?
And the new Leave-In Treatment only makes Function of Beauty's customizable hair care empire even better. The Leave-In Treatment retails for $18, and is an add-on option when ordering the brand's Insta-famous shampoo and conditioner; it's not available for purchase alone at the moment. Before ordering it — and any of the brand's products — you have to first take Function of Beauty's Hair Quiz, which is where the true magic happens. You choose your hair type (straight to coily), structure (fine to coarse), scalp moisture, and then five hair goals out of 18 options. Then voilà — your shampoo, conditioner, and treatment are formulated.
The next page you click onto lets you pick your favorite fragrance from five options and what color you'd like your products to be. For anyone sensitive to scents or avoiding dyes, there is an option to leave out either from your your hair care suite; the Leave-In Treatment comes dye-free regardless, and scented with whichever fragrance option (or lack thereof) you choose for your shampoo and conditioner.
But what exactly does the Leave-In Treatment do? Well, it's up to you. No matter which hair goals you choose, the treatment is applied the same way. It's lightweight, and is — you guessed it — applied and left in after you shower to work its magic on your hair. (Although you can use it on totally dry hair, too.) Like all Function of Beauty products, it's paraben-free, sulfate-free, cruelty-free, and vegan.
However, depending on your answers in the Hair Quiz, it can hydrate, deep condition, or boost your shine — the typical treatment goals. Or, you can choose to have it volumize, straighten, or define curls, and protect your hair's color and keep it safe against heat tools. The options are endless, so choose the ones that are right for you and your unique hair.
You can try the Leave-In Treatment with one of Function of Beauty's shampoo and conditioner sets, or order it with a 16-ounce bottle of either the shampoo or conditioner. Just follow the link below to take the Hair Quiz for yourself, and be on your way to happy, treated hair.