What It's Really Like To Bring A Hit International Brand To The U.S.
Courtesy of Núnoo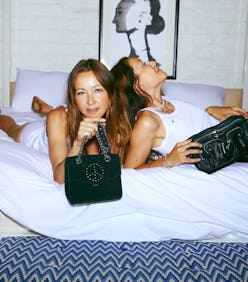 Social media has transformed shopping, giving women in New York and L.A. a way to seek up-and-coming talent abroad. Count both the fascination with the French-girl labels like Rouje and the rise of Scandi-cool style from the likes of Ganni as proof. This outward-looking mentality and desire to learn about popular international fashion brands in the U.S. means that for newer labels already succeeding around the globe, there's a chance to blow up anew stateside.
"We started making our U.S. plans at the beginning of 2019," says Marisa Horden, founder of London-based jewelry brand Missoma. She explains that while the brand knew it would be a major undertaking, "we were seeing 20 percent of our sales coming from the U.S. organically, so we knew the brand was resonating with an audience across the pond."
Brazilian-based mega-brand FARM Rio saw initial interest and success in the U.S. through partnerships with household names like Adidas and Anthropologie, making the case for a permanent presence earlier this year. "We see the U.S. as the ideal first step towards global expansion, with New York as our launching pad," says Fabio Barreto, CEO of the womenswear brand.
Now, these on-the-rise labels are poised to make it big here, meaning it's time to put them on your radar before everyone else. Ahead, three international founders explain what it's like to bring a label to the U.S. for the first time. You may not know their names just yet, but read on to find out just how they'll become the next big thing.
U.S. Shoppers Want Community
Between increasingly thoughtful and orchestrated events, rep programs, and mass Instagram seeding, brands and consumers alike have established community (both offline and on) as a driving force of not only revenue, but also loyalty. "We are learning to engage communities in emotional and culturally relevant ways, telling multi-dimensional stories that champion our communities with a shared purpose," Horden shares.
Many cult favorite U.S. native brands — think Glossier, Mejuri, or Golde — have positioned themselves as a friend offering you an emotional, human connection rather than a company simply pushing product. "We are learning all about the cultural moments which are important to our community in the U.S., all the holidays, sporting events, and festivals through which we can spark creativity and fuel collaboration whilst inspiring confidence." A built-in community means that when you sign on to these new labels, you're not just paying for a box to arrive in the mail, but you're acquiring a group of like-minded peers equally excited to try out Missoma's cool hoops or a Núnoo bag in a fresh color.
Americans Love Customization, Classic Style, And Sales
While it may be cliché that New Yorkers dress in all black, it turns out to be not so far off from the truth. What's more? Those neutral sensibilities are actually reflective of the entire country. "We definitely thought the U.S. customers were into lots of colors, especially in suede leather," says Pia Silfen-Jensen, co-founder of accessories line Núnoo. "We're now realizing that US style is closer to Scandinavian style, as Scandinavian shoppers are very much into black, grey, and dark green. Right now our black leather with a vintage look is the most popular with U.S. shoppers on Shopbop."
Social media has made trends go global, but when it comes to actually shopping, habits are still different. "American consumers are a lot savvier and curated within their shopping habits," says Horden. "They seek an easy point of sale and if online brands are sold at retailers, American shoppers will do their homework and find the best deal while in the U.K, shoppers are more likely to go directly to the site and click through without hesitation." She also adds that holiday sales like Labor Day and Black Friday are much more important stateside. So, if you're subscribed to retail newsletters, checking new arrivals, and marking sale dates, the good news is these new brands are setting up to meet your needs.
"We've learned that the U.S. shopper likes customized products," shares Silfen-Jensen, noting that these customers are looking for pieces that feel personal more so than in the European market. When she and her sister and co-founder, Naja Silfen, were invited to the launch of Shopbop's New York City pop-up, they saw the ways in which small personal details — initials or embroidery — can draw in lines of customers eager to put their own twist on phone cases and canvas sneakers. "It inspired us to think of ways we can integrate customization into our product line on a larger scale."
The market has also challenged brands to consider practical elements of design in addition to culture. "It was key for us to tailor our collection to the U.S. market and the distinct differences in climate and seasons, and just as importantly, lifestyle and culture," says Barreto. "We introduced our first-ever fall collection this season, to cater to the colder climate that we don't experience in Brazil." The brand's cool-weather collection proved to be a good bet as its infectiously colorful, tropical-inspired puffer coats are already shaping up to be a fashion girl favorite as the temperatures continue to drop.
Department Stores Are Your Go-To For Finding New Brands
VC-funded direct-to-consumer brands have become major disruptors in the U.S. retail space, but department stores and multi-retailer sites remain gatekeepers for emerging brands. You can see this in the success of Net-a-Porter's Vanguard program, an incubator that has help launched buzzy labels like Peter Do and Ratio Et Motus. Missoma is a DTC brand, but partnered exclusively with Nordstrom to help with growth in the states. For FARM Rio, "partnering with Shopbop at launch was key for us in building awareness with its loyal shoppers across the country," says Barreto. Since the brands featured are expert curated, a site like Shopbop offers an opportunity for you to learn about the brand's through a familiar voice — a cosign that still matters — for international and homegrown brands alike.
Shop pieces from the new brands to know below.