5 International Fashion Trends To Try First
Christian Vierig/Getty Images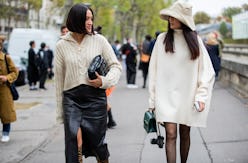 Every season, the frenzy begins again for that one item that hits viral velocity. Social media has homogenized popular style on a global scale and also given small brands the potential to take off seemingly instantly. You may remember the leopard print Realisation Par midi skirt that took over Los Angeles, then made its way to New York, London, and beyond — all documented through thousands of tagged Instagram photos. But like anything else, if you use social media as your only source, you're sure to miss something major. Often a city's boutique stores eschew sweeping international fashion trends in favor of what's catching on in the region specifically. In each locale, despite the presence of major trends and brands, there are certain nuances in the style choices of the people that live there that make it unique.
In part, it's climate (shoppers in Canada weigh winter jackets more so than those in London), but culture also comes into play. Milan is a city known for tailoring and leather goods, so even if Italians do embrace the big pants, tiny top look of "hot girl summer" 2019, there's variety in how it's done. As you head into fall, a new crop of trends is popping up all over the world, with some similarities but also many differences. To get an idea of what people are shopping for outside of their phones, we asked boutiques outside of the USA to give some insight.
Cityshop: Tokyo, Japan
"It's not about the quirkiness," explains buyer Kumiko Katayama. "I think people want exclusive things. A lot of people go with modest and conservative looks, but they shop at stores that carry styles on the other side of the spectrum, and that is giving birth to a unique kind of trend in the city," she notes about Tokyo's current style. "I have my eyes on SVNR silk dresses, which are hand-dyed in Brooklyn and have a wide range of colors that suit everyone's needs. We also carry YanYan, the knitwear label started by two women based in Hong Kong. YanYan vests and shrunken waistcoats have a unique design and are surprisingly versatile. They can be worn as a statement piece or something that compliments the rest of your outfit. The quality is outstanding, which is another reason why YanYan will be big."
Chance And Fate: Toronto, Canada
"Our customers are looking for texture this season and they're particularly excited about leather skirts and head to toe knit looks," explains Michelle Wilson, the store's creative director. "It gets cold in Toronto so outerwear is always key for the fall and winter season. This season we'll be seeing oversized parkas and long faux furs which are great both for function and style."
Joan: London, UK
"In London at the moment, there's a lot of transitional dressing as we are going into autumn," says Owner Cat Hocking. "There are definitely two camps here. The more neutral, minimal girl ... think beige trench coats, silky mid-length skirts, and oversized jumpers; and then the more statement-dresser, who's mixing printed dresses or pants with heavy boots. We're seeing a lot of knee-high boots [from brands like] Maryam Nassir Zadeh, and LOQ, [as well as] animal print, and mini bags [from brands like] BY FAR, Hai, Ashley Williams, and Shrimps." Hocking also called out jewelry designers Alighieri, Laura Lombardi, and Saf Safu.
Macondo The Store: Milan, Italy
"Layering is the only trend that prevents us from hiding in our apartments drinking hot chocolate all day. It gives you the chance to stay comfy no matter where the temperature may fall, it's all about being mindful and clever," notes Chiara Tiso, the shop's Buying Assistant and Social Media Manager. "This season our customers are shopping Western everything. Looks filled with embroidery, cowboy boots, and fringe. Of course, a full-on cowboy look can be intimidating but there are so many ways to embrace the trend without channeling Woody from Toy Story so why not?"
The Frankie Shop: Paris, France & New York, USA
"Culottes Culottes Culottes!" exclaims Gaelle Drevet, The Frankie Shop's founder. "Think tomboy meets the bourgeoise chic: It's versatile, you can dress it up or down, it's feminine but will toughen up your look. Especially in leather, it's an easy-to-wear fall update."