How To Prepare For Fall 2019's Leather Trend (Which Is Coming Sooner Than You Think)
Shutterstock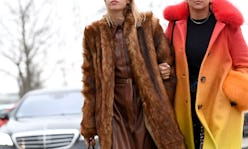 It may be resoundingly difficult to picture during the summer, but in just a few months — or even sooner — you may be staring into your closet and asking yourself why you don't own more leather. Yes, really. Bets have been placed, predictions have been cast, and it looks like fall 2019's leather trend is one to invest in now. (Luckily, it's something you can do online, in the comfort of your undoubtedly well-air-conditioned home.)
Of course, leather is just one of many '80s fashion trends dominating 2019, joining the ranks of oversized blazers and cycling shorts. You can also thank a multitude of Fall/Winter 2019 shows for birthing the trend — and its more colorful side. You see, while you can invest in traditionally neutral leathers this time around, you also have an option to embrace the technicolor shades that dotted the '70s and '80s. Think Jacquemus' Le Pantalon de Nîmes: They're wide, they have a cargo-level amount of pockets, and they're gorgeously, shockingly red. Better yet, the Fall 2019 style can be all yours for just $1,535.
Which brings to mind an important point when contemplating leather: It's a historically expensive material. However, the budget-minded shopper can strike gold if they know where to look. And while you may not have time to sift through your local thrift store, Urban Outfitters' website currently has a trove of vintage leather pants listed on its website for $59 a pop. Available in sizes XS through L, each pair of pants will be one of a kind, though Urban Outfitters does note in the product description that each one will be high-waisted with a relaxed fit. Score.
You have options even if you prefer to get the look without using traditional leather, as well. Just take a look at the popular brand, Nanushka; it specializes in creating cutting-edge designer pieces crafted from vegan leather. Rebecca Taylor's new arrivals have also introduced a handful of vegan leather pieces (including a $595 faux leather jumpsuit that'll make getting dressed this fall a piece of cake).
You can find other designers who offer vegan leather pieces just by searching on retailers like Net-a-Porter or MATCHESFASHION.COM, too — you may be surprised by just how many there are. Or, simply keep scrolling down to browse 14 of the best traditional (and faux) leather pieces currently available online; after all, autumn is right around the corner.