Cardigans Are Making A Comeback & This Is The Exact One I Want Hanging In My Closet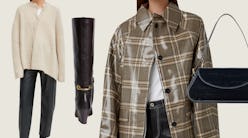 For The Zoe Report's fall fashion issue, TZR editors are sharing the Fall/Winter 2019 pieces they're most excited to welcome into their wardrobes. This season, shopping news editor Anna Buckman is looking forward to trying out fall silhouettes that feel fresh, yet cozy.
Over the past few years, I've started to finally hone in on my personal style, and I've realized it's pretty much devoid of current trends. Sure, I love a few new details here and there so that my wardrobe stays modern — but overall, I stick to the classics and mainly look to neutrals for my color scheme.
That said, there's something about fall that brings out a slightly more adventurous side of me. The cooler weather makes everything feel more romantic, and the impending holiday season just makes me happy, which often tempts me to break out of my comfort zone (albeit in the most subtle way) and try out new silhouettes — and if I'm feeling *especially* bold — different colors, too.
This year, that's translating into a few new and unexpected details in my wardrobe I'm particularly excited about. But whether it's a midi dress in a sweet peach shade or an asymmetrical sweater, you can be sure it doesn't stray too far from being a timeless piece I'll be wearing for years after fall 2019 ends. Ahead, five of the pieces I'm currently obsessed with.
Rejina Pyo Dress
Rejina Pyo has mastered the art of romantic — but always unexpected — pieces. Whatever you do, don't miss the back of this dress; it's the most beautiful blend of understated colors and manages to feel both modern and vintage at the same time. I can't imagine a better dress to wear to this year's holiday parties.
Tibi Boots
These boots from Tibi might just be the pair that convinces me to bring knee-highs back into my closet. They're roomy enough that my calves would actually fit (something that is often overlooked), and feature a small but chic hardware detail that sets these apart from other similar pieces.
By Far Bag
By Far's bags have done the impossible by becoming increasingly more chic with every new launch, and it may have reached its peak with this crushed velvet style. I love this because it feels fancy enough to wear on a night out, but also lends itself perfectly to jeans paired with a t-shirt. Plus, that silhouette is just *chef's kiss.*
Kassl Jacket
I'm usually drawn toward outerwear that's fitted in the waist, but for some reason, the styles this season have convinced me to run in the opposite direction. I love the combination of the simple plaid pattern, wide silhouette, and neutral color scheme in this piece, and the fact that it would fit over my fall sweaters makes it that much more perfect.
Totême Cardigan
Cardigans have made a comeback that I'm very here for, but this piece takes the trend to an entirely new (and very chic) level. And since I live for unexpected details on timeless pieces, you better believe I'd live in this all season.