Facebook Dating Is Live — Here's What Dating Coaches Think About It
Pixelformula/Sipa/Shutterstock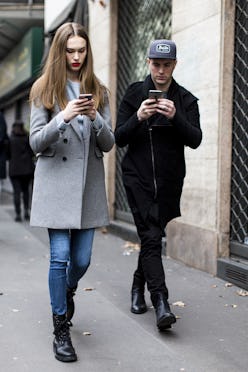 If you haven't heard already, one of the world's most popular social networks has launched a platform where users can find romance in addition to "friends." As of this month, Facebook Dating is live — but is it worth adding another dating platform to your rotation?
It's no secret that dating apps and websites already run the gamut, putting Facebook a bit behind as far as jumping on the love train. But despite the selection, many singles are frustrated in their search for finding a long-term relationship online, giving the 'book an advantage amongst hopefuls everywhere. "We found that 40 percent of online daters don't feel that there's a dating app, site, or platform that meets their needs," points out Charmaine Hung, the Facebook Dating project manager. So, what sets it apart? "Facebook Dating makes it easier to find love through what you like," she explains. "It reflects the ways people meet in real life and focuses on helping people building relationships."
Ahead, learn about the platform's key features, then hear what online dating coaches think of the network's newest endeavor. From usability, to match making, to privacy and safety, experts weigh in on what makes it different, then dish on whether it's really worth signing up.
How It Works
Facebook Dating Profiles: If the idea of your grandmother scrolling through your dating page makes you cringe, don't worry; although the information is intertwined on the back end, your Facebook Dating profile is only visible to fellow daters.
The good news is, your pre-existing information makes setting up a dating profile easy. You can pull photos from your regular Facebook page — and soon, connect with Insta — then fill out questions to share at-a-glance information like a tagline, your job, age, height, and location. The platform also shows browsers if they have mutual friends and if they both attended a recent event in an attempt to uncover more commonality.
In your settings, you can indicate who you're interested in dating, along with a mileage radius. This ensures that you don't come across matches that are too far away, if starting a long-distance relationship online isn't your thing.
Making Matches: From the get-go, Facebook had a major leg up on most of its competitors. In addition to being used by just about everyone, it already has insights on your interests (via Groups) and your outings (via Events), information that's used to show potential matches.
"People that are suggested to you are based on your preferences, interests, and things you do on Facebook," says Hung. "Suggestions also take into account things like your hometown from your profile, mutual Groups, mutual schools, and more."
Secret Crush: Facebook Dating helps you avoid the awkwardness of being suggested to someone you know through a clever default: It won't match you with anyone in your immediate network.
However, if you do have your eye on some of your friends, there's the Secret Crush feature, which allows you to choose nine people in your network who you're interested in. If they add you to their list, too, a match will be made; if not, no one will know but you.
"Liking" Suggested Matches: In Tinder-like fashion, users can press the heart to "like" profiles or the X to move on. But unlike the notorious swiping app, you can also add reactions and comments to photos as another way to interact with potential dates.
Of course, you can also send a private message, but there are measures to ensure the conversation goes both ways (more below).
Privacy & Security: Facebook Dating may be superior to other apps when it comes to privacy and security, using classic FB features as tools to enhance safety and peace of mind.
As mentioned, you can receive private messages, but you have the ability to accept the message or ignore it; if you choose the latter, the sender can't continue the correspondence.
And in the name of safety, those meeting up for dates can use the Messenger feature to alert a friend of their whereabouts. "People using Facebook Dating can share details of their upcoming date and/or live location with someone they trust via Messenger," says Hung, adding that the user is in complete control of who they share this information with.
Expert Accolades
So, what do online dating experts think of this venture? Mark Brooks, consultant to internet dating CEOs at CourtlandBrooks.com, says he's all for the digital dating platform. "It's vastly superior to the average startup [dating app] because[Facebook is] instantly at critical mass," he notes. "Users know they'll find plenty of other real people, real close by."
When it comes to features, he says he's particularly a fan of Secret Crush. "The 'double like' features in Hotornot, Badoo, Tinder, and Plenty of Fish always made sense," he says, praising FB for offering a similar option. Plus, "putting a cap on crushes [by allowing nine] is brilliant — it's just enough to quickly identify the very topmost mutual crushes, which should really be thrilling for many."
All in all, Brooks has high hopes for the dating platform and says he'd definitely recommend it to his clients. "Facebook knows when they've been successful. [Over time] they should be able to see their patterns of success that will allow them to improve their algorithms over time," he concludes.
... And Skepticism
But not all reactions to the dating site are positive. Fellow online dating consultant Steve Dean, founder of Dateworking and host of the Modern Connection Podcast, has been using the platform himself for a couple of weeks — and so far, he's not impressed. "It currently feels as though Facebook has done nothing whatsoever with its matching algorithms, leaving users across the country with a lineup of truly terrible matches," he says. "Worse, the structure of the app essentially forces users into 'Tinder-ized' dopamine loops where they're simply liking or rejecting users based on photos. [There's] very little focus put into profile quality or depth, let alone important compatibility variables." He compares its user experience to Tinder and its profile setup to Hinge, giving it an overall vibe that's "disingenuous and very uncreative."
And, unlike his colleague, Dean has a very different take on the Secret Crush feature. "Facebook has basically duplicated the infamous functionality of the Bang With Friends app, which lets you select which of your Facebook friends you had a crush on and would notify both of you via email if you matched," he says. "It was terrifically awkward then, and it feels almost irresponsible for Facebook to debut that feature without even describing what they plan to do if you actually match with someone."
But despite his criticisms, Dean admits that the social network has a unique vantage point when it comes to data, something that could benefit its matching structure in the future. "Despite its subpar rollout, Facebook Dating does have the potential do a lot more for the industry than most current apps can currently even dream of," he says. "By having access to certain highly-desirable datasets, it has the potential to create transformative change in the industry."
Tips From Online Dating Consultants
At the end of the day, the decision to give Facebook Dating a go (or not) simply depends whether you like its features and overall user. But no matter what site or app you choose, the online dating gurus offer a few final pieces of advice for finding lasting love via cyberspace.
"Be specific in your profile," suggests Brooks. For instance, "don't just say, 'I like to go for walks on the beach.' What is it about going for that walk on the beach that really lights your fire? Running at 7 am for three miles? Or taking your dog in the evening for a stroll? Put a bit more time into your profile to let it sing out your individuality."
Dean agrees that uniqueness is key when it comes to making a genuine connection. "Don't think of what is genetically acceptable or attractive to the general population when building your profile," he recommends. "Think of the kinds of people you want to bring into your life, and make your profile into a love letter to those people. Invite them in. Showcase your most accurate, quirky self, in your photos, your profile text, and your messaging. Find your voice, own it, and seek others with whom you'll resonate with."